Dr. Doug Barrett Leads New Institute for Innovation and Economic Development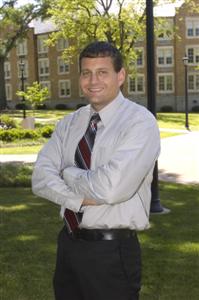 The College of Business has implemented a number of successful initiatives and programs aimed to support, lead and encourage economic development in the Shoals. The Institute for Innovation and Economic Development was established in January of 2016 with approval from the Board of Trustees to house the four areas of focus: Economic Development, Business Consulting, Strategic Doing and Innovation. "Our goal is to enhance the economic well-being of the region," Dr. Barrett says. "And to have student fellows who are able to work in any of these areas, depending on what someone approaching the university needs."
The Institute works closely with the Innovation Engineering program, which includes UNA's new student incubator The Generator. "There's a lot of crossover," says Dr. Barrett. "The Strategic Doing initiatives, for example, were set up as a methodology for economic development, which falls under the Institute's umbrella." Business Consulting has long been an outlet for local businesses seeking guidance from the community, and the Institute now serves as an anchor point that connects the independent yet related fields that are key elements in fostering a prosperous region now and in the future.
We are pleased to have Dr. Doug Barrett at the helm of the Institute, which will help us to continue strengthening our students, our resources and our community at large.
Contact Dr. Barrett at 256-765-4418 or jdbarrett@una.edu to find out how to collaborate with the Institute.
April 2016
February 2016
September 2015
July 2015
March 2015
Archives