Second Annual Shoals Big Idea Awarded $3,250 to Competitors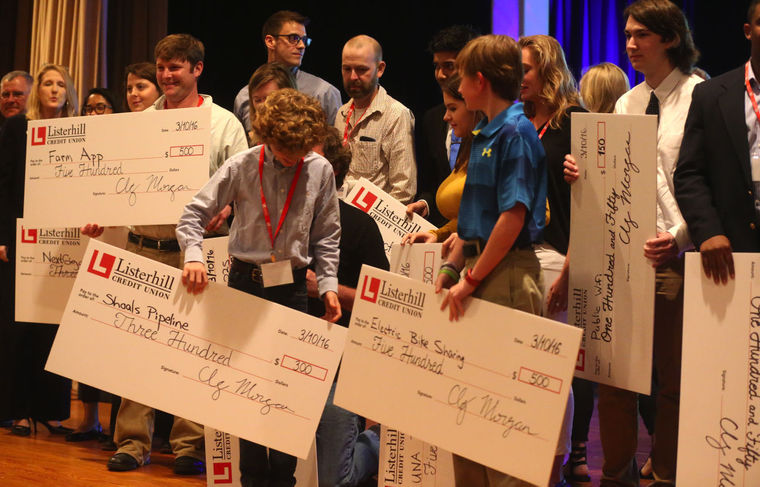 On Thursday, March 10, 2016, finalists in the Shoals Big Idea competition presented their concepts to a panel of judges and a public audience. Twenty-nine ideas were submitted in three categories, and the top three winners in each received a cash prize. Sponsor Listerhill Credit Union wrote ten checks totaling $3,250 to the winners. The categories were Middle/High School, University and Community. Two UNA Alumni spoke including last year's Community winner Brandon Gillis of PartsCycle, who delivered a keynote address and Tera Wages, welcomed all with a brief talk on the journey to being an entrepreneur.
Community winners Jason Strayhorn and Hope Lowery worked with tech developer Brian Williams to conceptualize a smartphone app that connects farmers with their customers, allowing local consumers to know when and what products are available by participating farms. Strayhorn and Lowery, both farmers, seek to alleviate the gap producers feel between themselves and marketing their products.
UNA student Isabella Roland won first place in the University category for her "Smart Parking" concept. As UNA has grown in physical size and enrollment, parking has increasingly become a concern for commuting students. Roland presented an idea for a smartphone app that would detect unavailable parking spots through a sensor that can recognize when a vehicle is present, thus reflecting available spots in real time.
The youngest contestant, fifth-grader Ben Hillis of Hibbett Middle School in Florence, won first place for his electric bike proposal that would encourage a reduction in traffic and vehicle pollution by renting electric bikes for transportation and touring the city. The bikes would rent for a small fee and run on solar-powered lithium batteries.
Dr. Borah says the Idea Competition continues to be an important draw for budding entrepreneurs and generates community enthusiasm toward bettering the Shoals region. The Third Annual Shoals Big Idea Competition final presentation will be held on March 9, 2017. Visit www.shoalsbigidea.com for submission guidelines.
April 2016
February 2016
September 2015
July 2015
March 2015
Archives