University Innovation Fellows Visit Google Headquarters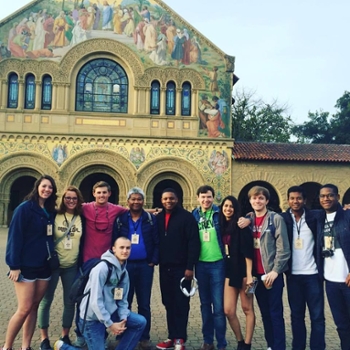 On March 17-22, UNA students Abigail Holbert, Nathan Martin, Ryan Mason and Grace Piper joined 151 students from 47 universities as University Innovation Fellows at the annual Silicon Valley Meetup. The University Innovation Fellows program is run by the National Center for Engineering Pathways to Innovation (Epicenter), which is funded by the National Science Foundation and directed by Stanford University and VentureWell. The fellows participated in several immersive experiences at Google and Stanford University's Hasso Plattner Institute of Design (d.school), where they took part in experiential workshops and exercises focused on topics including movement building, student innovation spaces, design of learning experiences, and new models of change in higher education.
Nathan Martin says it's hard to put the experience into words, but he expects the impact to resonate for years to come. "I've got 150 other fellows I can now reach out to," he says. "I have got a couple of business ideas and I'll need engineers and marketers to help." For Martin, the network of talented students from universities across the country is the greatest takeaway, though he found the tours of Google and Microsoft to be dually impressive.
Senior Abigail Holbert says the experience empowered her with the knowledge and confidence to turn ideas into actionable results. "I've been going through college with a lot of ideas, but not with a passion that would benefit where I'm from," she says. "With that leadership experience, I now feel like I can lead and organize those ideas as well." Holbert hopes to use this insight and her new network to help friends in UNA's Generator program to obtain funding for their promising concept.
Please contact Dr. Santanu Borah at 256-765-4605 or sborah@una.edu to find out how you can help more UNA students participate in this amazing opportunity.
April 2016
February 2016
September 2015
July 2015
March 2015
Archives