Dr. David Nickels named LaGrange Eminent Scholar, and appointed as Chair of the Department of Computer Science and Information Systems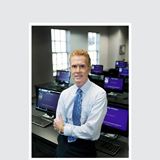 Dr. Nickels is adding to his previous position of Professor of Computer Information Systems with a strong vision for the department's future. "I hope to continue the excellence that was established by our previous Chair Dr. Paulette Alexander, to continuously review our curriculum for currency, and to expand collaboration with regional business and industry," he said. Dr. Nickels also expects to strengthen the department's mentoring capabilities in the COB programs.
He has just completed his seventh year at UNA. "It was a very strong academic college when I arrived, and that has continued. Our sphere of influence has increased under former Dean Kerry Gatlin and our current Dean, Greg Carnes. Since the Computer Science program moved into the COB two years ago, Dr. Nickels has seen the faculty from the two programs work closely together and successfully grow the Department.
"I have tremendously enjoyed my time at UNA. It's an excellent working environment, and the collaboration of faculty members within the College of Business is exceptional."
Dr. Nickels has also been awarded the position of LaGrange Eminent Scholar effective September 1. This endowed chair was funded a few years ago by several generous supporters of the College. Dr. Nickels has exemplified the characteristics of a true scholar since joining UNA seven years ago. Dean Carnes described Dr. Nickel's qualification for this esteemed position, stating "His excellence in teaching and scholarship has been recognized by the COB (COB Service Award and COB Teaching Award) and the University (Eleanor Gaunder Phi Kappa Phi Excellence in Teaching Award). He has also built relationships with the business community, created opportunities for his students to work with local businesses, and is one of our most popular teachers in our Asia MBA Program. I also want to thank the donors who made this endowed chair possible. To attract and retain excellent faculty the support or our alumni and friends is critical."
Click here to learn more about the Department of Computer Science and Information System.
August 2014
July 2014
June 2014