Successful Summer Business Academy Introduces Area High School Students to UNA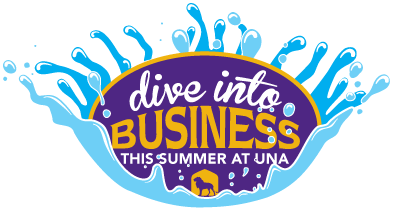 This June marked the second annual Summer Business Academy for rising 10th, 11th and 12th graders from the Shoals area and South Tennessee High Schools, held on the UNA campus and hosted by the College of Business.
Dr. Jana Beaver, Chair and Associate Professor of Management, and Ms. Jennifer White, Clinical Assistant, led the students through the two-week program. Each student earned three hours of college credit for the MG100 course, Introduction to Business. The students learned about basic business concepts, possible career paths in business, and the types of skills they will gain from various business majors and minors. Faculty members from each department in the College of Business spoke to the group about their respective disciplines and offered key advice and direction to the youths.
Field trips were an integral part of the Summer Business Institute, by which students were able to visit several small businesses in downtown Florence, a nonprofit organization, a large scale operation in Florence's Industrial Park, and the Shoals Entrepreneurial Center. Dr. Beaver said, "These types of experiences are incredibly valuable to expanding a young person's perception of the types of businesses available and the kinds of jobs that can be obtained."
The students divided into groups and collaborated to develop a business concept, which they presented on the last day of class. Ms. White said of the exercise, "I enjoyed seeing teamwork skills and an entrepreneurial spirit blossom with this project."
The Academy was a great success and planning for the 2015 Summer Business Academy is underway. Interested rising 10th, 11th, and 12th graders can learn more about the program from their High School counselors.
To receive information about the 2015 Summer Business Academy, please contact Dr. Jana Beaver.
August 2014
July 2014
June 2014