College of Business Ambassadors Make International Connections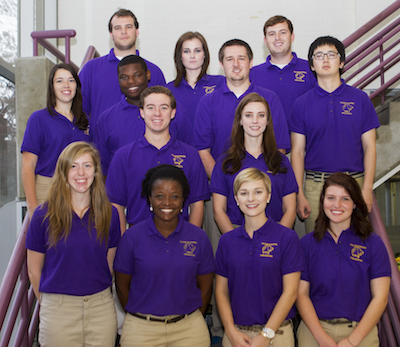 The College of Business and Technology Ambassadors is a recognized student organization on the UNA campus. This prestigious organization is composed of students chosen from among recommendations made by each of the four COBT department chairs and/or COBT Dean. These ambassadors, having previously shown excellent leadership skills through their participation in extracurricular activities on and off campus while maintaining high grade point averages, are among the college's most successful students.
To assist the College of Business and Technology in meeting its global mission, the COBT Ambassadors are specifically charged with creating opportunities for UNA students from all regions and countries to learn about the various cultures and to help build strong and lasting friendships. They also represent the College of Business and Technology at various events both on campus and in the community. 
Lead ambassador during the Fall 2014 semester, Grace Ayika, grew up in Togo, Africa. She graduates this December from UNA with a degree in Banking and Financial Services. She served as vice ambassador for the Spring 2014 semester and has had a successful experience in both positions. "It has been a very rewarding experience for me," she said. "It has really helped me a lot connecting with students and given me a chance to really interact." She said the connections with teachers and faculty were especially rewarding. Because students have to be recommended by faculty, Grace found new confidence in the position. "It's good to know they can trust me with that responsibility." 
The ambassadors carried out the usual community outreach, visiting community colleges to recruit new students, but also conducted significant international outreach to the university's diverse student community. The group hosted a party for international students, though all students were invited and the turnout was positive this semester. "We also had a retreat to a farm about 30 minutes away from campus, with rare breeds of horses. This was the second semester we did that and I'm pretty sure we will continue to do that. It has been a very successful project," Grace said.
Vice ambassador Hannah Aycock will graduate in May with a degree in Accounting. "It's been a challenge that I have loved," Hannah said. "It's one of the most responsible positions I've ever had, managing people. I've made a couple of big mistakes this year and have definitely learned from my mistakes. It has definitely been a lot of fun." Hannah said the International Food and Friends event was a huge success. "I'll brag on the entire group this year," she said, "because we had to turn it around really quickly and everything got done so smoothly." Hannah has particularly enjoyed interacting with faculty and Dean Carnes. "I love the connections I've been able to make at UNA - especially as an ambassador - because we get to interact with the dean and everyone in the COB office. Just being able to come out of college with friends and connections with important people is really great." 
To find out more about the College of Ambassadors please contact Toysan Reed.
December 2014
November 2014
October 2014
September 2014