PartCycle Wins Inaugural Idea Audition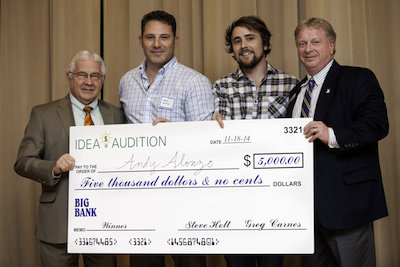 Last month the College of Business and Shoals Chamber of Commerce hosted the first Idea Audition, a competition designed to attract entrepreneurs from the surrounding area with the goal of supporting local business start-ups and connecting those individuals with each other. Thirty-three teams signed up from the Shoals area. Andy Alonso and his business partner Brandon Gillis won the competition.  They began developing PartCycle just over a year and half ago. They both have full time jobs - Alonso owns Shoals Works, a web design and development business - but the two started PartCycle to fill a hole in a niche market, an online platform that connects recycled and refurbished auto parts suppliers with consumers. It's similar to eBay or Amazon but specific to the auto parts industry, which has been slow to move commerce onto the Internet. 
They built PartCycle after the lean management model, a concept Alonso and Gillis discovered in Eric Ries' book The Lean Startup. Gillis is a UNA alum. Alonso began his studies at UNA, joined the army and landed in San Diego where he completed his degree and began working for a dot com during the Internet boom. He watched start-ups fail hard as they burned through capital on $1,000 office chairs, expensive coffee makers and, for the executives, Porsches, Ferraris and the like. Following the lean management formula, a business like PartCycle can grow organically, responsibly and better protect investor interest. It can also be headquartered anywhere. "One of the main driving points of what we're looking to do in building our company here in the Shoals," Alonso said, "is to create white collar jobs and hire UNA students so they don't have to move away. Both Brandon and I are from here and have both always had jobs outside the area, so for us to be able to throw down roots here and help change the tide in the Shoals is very exciting."
Another working aspect of the lean management style is based on frequent customer feedback. "Ultimately, we are figuring out as quickly as possible, with the least investment time, what works and what doesn't by talking with clients and customers." Alonso said of the Idea Audition, "Obviously we love the publicity and attention to our idea, but ultimately it was a really good way to gage our hypothesis that we had developed a business concept that would work. The positive public recognition is great for us."  Alonso said he was impressed with the number of contestants and the quality of innovations coming out of the area. "We knew we had a great idea," he said. "We were very prepared, but we were definitely humbled to win." 
The two plan to put the $5,000 award toward marketing initiatives. "It was a very positive experience," Alonso said. 
The Idea Audition will be an annual event.  Please visit the website to stay informed of the details for the 2015 contest!
December 2014
November 2014
October 2014
September 2014