Senior Athletes of the College of Business in Fall Sports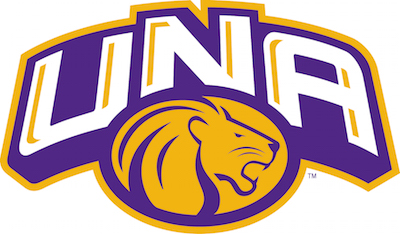 Many College of Business students have full time jobs and life obligations outside the classroom. For student athletes, the commitment to a collegiate team demands significant time and energy; it is a full time job. At UNA, academics are the priority, and our faculty work closely with students and coaches to ensure our athletes are succeeding on both the field and in the classroom.  The College of Business would like to honor all of our Seniors who are participating in Fall Sports at UNA.
UNA soccer captain Abbey Hellem will graduate in May with a BBA in Professional Marketing with a concentration in sales, and a minor in Spanish. She's from Lincoln, Nebraska and plays center midfield for UNA's dominating women's team. She has started 18 games for the team.  Abbey said of her time at UNA, "My experience here at UNA has definitely been one of a kind. The COB has challenged me daily in the classroom, but also has helped me grow in many ways personally and professionally. I cannot believe my four years are drawing to a close, and as I look forward to graduation I can truly see how blessed I have been to be a lion and part of UNA family." 
Danielle Scanlon is also on the UNA soccer team.  She is from London, England and will graduate in May with a degree in Economics and a minor in Entrepreneurship. "The College of Business respects our responsibilities and our busy schedules as student-athletes," Danielle said. "Together the athletic department and COB have allowed me to succeed both on the field and in the classroom. Online classes have been very useful, particularly when we are traveling in season and are consequently away from school. I know without a doubt that the support I have received from the Faculty and Staff in the COB has helped me to succeed!" Danielle has started 14 games and has scored nine points for the Lions. 
Taylor Carney is a defensive lineman for the UNA football team.  He graduates this semester with a degree in Marketing. He graduated high school from Brooks in Killen, Alabama, and chose to attend UNA because of their strong traditions in both football and academics. "The business department has been really helpful with my classes," Taylor said. "Everyone was always helpful with my questions. They helped me a lot with my other classes as well, from a marketing standpoint."
The College of Business congratulates these and all of our Senior Student-Athletes!
Football: Taylor Carney
Soccer: Abbie Hellem and Danielle Scanlon
Men's Cross Country: Jonathon Vick
Men's basketball: Lazar Petrov
December 2014
November 2014
October 2014
September 2014