COB Provides a Total Student Experience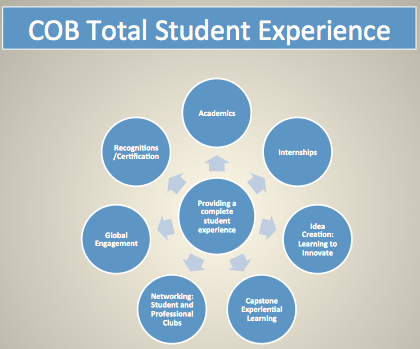 The College of Business is enacting a new program called Total Student Experience, designed to build robust, outstanding resumes upon graduation. Dr. Guihua Li, Director of Quality Assurance and Asia Programs, and Executive-in-Residence Janyce Fadden are spearheading research and implementation of the Total Student Experience program. "Our college graduates face an environment that is totally different from what graduates faced 15 years ago," Dr. Li said. "This [Total Student Experience] framework will help us to guide our delivery of the education experience to students. We started with students in mind. Of course academics is one major part of it, with different concentrations in different areas. However, if we want students to be successful, to be contributing citizens after they leave college, we've got to have all these other areas in mind."
Those areas include working under a mentor at well established companies with valuable experience-based guidance, gaining ideation skills that move the student from creating to executing an idea, building excellent networking skills, engaging in real-life work experiences, acquiring a sincere understanding of global engagement, and earning recognition and certifications.
Current practices to guarantee success among students are anchored in strong, award winning, highly accredited academics through classes such as the project-based Capstone course. Competitions and contests like the Idea Audition and 3Day Start-up provide additional opportunities for hands-on experiential education that makes knowledge learned in the classroom come to life.
Whether a student chooses to pursue a graduate degree, seek employment or pursue self-employment upon graduation, the Total Student Experience program arms students for each of these career paths with a resume that reflects excellence, experience and the maturity needed to succeed in today's competitive marketplace. 
Learn more about all of the initiatives within the College of Business.
February 2015
January 2015
December 2014
November 2014
Archives