CIS Students Work with EMA to Potentially Save Lives During Recent Tornadoes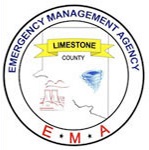 During the 2014 spring semester, a team of five students redesigned and revamped the Limestone County Emergency Management Agency (EMA) website as a project for the capstone course, Projects in Information Systems, with Dr. David Nickels. Students working toward a BS in Computer Science or BBA in Computer Information Systems typically take this course during their last or next to last semester of study. It's a real life, client engaging project-based course that resembles an internship and adds a valuable advantage to student resumes as they enter the workforce after graduation.
When Dr. Nickels first began teaching the course six years ago, he actively searched out businesses with Information Technology needs, but today, he runs a wait list of businesses, most of which are nonprofit organizations, interested in working with the UNA students in the course. Organizations must present their project needs (e.g., website building and infrastructure or establishing database systems), for the student teams to choose which project they want to work on. Dr. Nickels said the EMA website student team actually completed two projects with similar needs at the same time.
Director of Limestone County EMA, Rita White, said her experience working with the UNA students was excellent. White learned of the opportunity when she mentioned to Limestone Country IT Director, David Freeman, that they needed a new website. Freeman is a UNA graduate, was aware of Dr. Nickels' class, and suggested they propose the project to him. It was a perfect solution for both interested parties, as the EMA is a nonprofit organization with limited funds, and the website serves the Limestone County community. White said, "I was very impressed with the students. They contacted us for information, kept us informed on what they were doing and were very easy to work with. They were all very respectful."
Some of the features the students added to the new Limestone County EMA site included an easily accessible list of public storm shelters, numerous links to resources that cover a broad variety of emergency situation needs relevant to the area, and an online form for registering home shelters. Before this last feature was added, residents with storm shelters in their homes had to call the EMA office in order to register their shelter, information the EMA then shares with 911. This is extremely helpful for emergency responders post-storm by providing a map of shelter locations they might check for potentially trapped storm survivors. The new online form the UNA students created and added to the EMA website has significantly streamlined the process of communication between home shelter owners and emergency responders.
Dr. Nickels said he has had numerous human resources recruiters from businesses relay that UNA graduates have a distinct advantage over students from universities that do not offer a similar projects course. Everything each student has studied up until they enter this class is put into real time practice, building experience and confidence before seeking full time employment.
If you are interested in UNA students helping your organization with a similar project, contact David Nickels at dwnickels@una.edu.