Undergraduate Student Excellence: Steven Steffel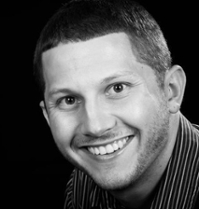 Steven Steffel was born and raised in Defiance, Ohio, and was on the path to a Nursing degree near home when he discovered the University of North Alabama by happenstance. A friend asked him to help out on a project in Florence, Alabama, and after a few trips here plus a visit to the campus, he knew UNA was where he wanted to be. He enrolled in the Nursing program, though he was drawn to the opportunities available within the College of Business after just two semesters. Steven earned his Bachelors of Business Administration in Professional Sales and Professional Marketing this past May. With his experience at UNA, Steven landed a highly sought after executive sales position with upscale clothier Tom James.
Steven was involved in many organizations on the UNA campus, including a membership in Pi Sigma Epsilon, which Steven regards highly and described as "a phenomenal organization." The social fraternity's slogan is "Your business advantage for life." "That's not just a slogan, it's the truth," Steven said. He was also a member of the American Marketing Association; earned recognition on the Dean's List, Delta Mu Delta Honor Society, and Phi Theta Kappa Honor Society; and served as a UNA College of Business Ambassador. He also had the opportunity to study business in China as part of his degree, an experience Steven said broadened his horizons and expanded his vision of the global marketplace.
In addition to the accessibility and beauty of the UNA campus, Steven gives tremendous credit to the professors who helped shape his education, encouraged his endeavors and guided him to become the person he is today. He named Dr. Daniel Hallock and Jerome Gafford as specific mentors during his time in the College of Business. "Dr. Dan Hallock was very influential and helpful for me," Steven said. "I got to work with Jerome Gafford in the Professional Sales Center, which was also very, very helpful." Steven said real life role playing exercises with Gafford helped him hone his skills as a sales representative, allowing him to see his mistakes, correct them, improve for the future, and recognize his strengths and how to utilize them to his advantage. Because Gafford had worked in sales, his experiences were relevant and insightful for Steven.
Steven also participated in numerous sales competitions while attending UNA. Through those competitions Steven was able to meet prospective employers, including the vice president of Tom James, who he encountered several times. As a result, the vice president called Steven himself and offered him the executive sales representative job, an advanced role that has allowed Steven to surpass entry level and mid-level positions.
"Because of all of the opportunities I had to receive real selling experiences, UNA definitely put me leaps and bounds ahead of where I would have been," Steven said. "I was looking for a career, not a three-year occupation." With guidance from the UNA College of Business, Steven has achieved exactly that.
Please contact Jerome Gafford to learn more about the UNA Center for Professional Selling.