Alumni Focus: Jonathan Pettus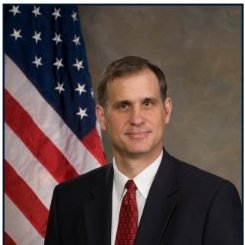 UNA graduate Jonathan Pettus received his Bachelors of Science in Education, Math and Computer Science in 1987, and later earned a Masters of Computer Science from University of Alabama Huntsville. He began working at NASA in 1991, eventually moving into the Chief Information Officer (CIO) position where he was based in Washington DC for two and a half years. In 2009, he moved to NASA's Marshall Space Flight Center in Huntsville, Alabama, as CIO. 
He shared with us some thoughts about that position and how his experience at UNA helped prepare him for his career.
What does NASA's Chief Information Officer (CIO) do?
I'm responsible for all the computer technology information systems at Marshall Space Flight Center and also the key aspects of NASA's IT infrastructure that support the entire agency.
How much creativity or creative thinking figures into your position as CIO? 
Quite a bit, actually. The technology landscape is changing so quickly and innovation is occurring so quickly in terms of what we are doing internally to meet our needs in NASA. That requires quite a bit of creativity and also the agility to adapt as technology changes.
How do you keep up-to-date and ahead of the curve?
You have to recruit and surround yourself with people that are passionate and interested in the field. You also have to maintain a level of enthusiasm and passion and interest, so that you're continuing to learn as a life-long learner. There are some systematic things you can do, like have affiliations with certain professional organizations and attend some key conferences throughout the year, but also establish a strong network of peers and colleagues in different industries who you can share and collaborate with, so that you can connect and understand what they're doing that you may not be doing.
How has your UNA experience contributed to your professional and personal success? 
UNA has provided me with a great foundation. One of the unique aspects was the relationship that you could establish with instructors and the smaller class sizes. Also, just the breadth of different course work and different subjects that were required for us to study to have a well-rounded education. Actually, when I was at UNA, I thought I wanted to be a teacher, so it turns out that the classes and the student teaching and the things I did in the education program taught me a lot about communication. Leadership requires a lot of communicating and coaching and teaching.
July 2015
March 2015
February 2015
January 2015
Archives