Shoals Big Idea Competition Fosters Technology Entrepreneurship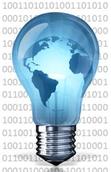 The University of North Alabama, the Shoals Chamber of Commerce, and Florence city schools and officials sponsored the inaugural Shoals Big Idea Competition, open to middle school and high school students, university students and community members. 
Forty-three ideas from 39 individuals were submitted, each with the goal of moving the Shoals toward becoming the next leader in digital technology. "The Shoals can thrive as a technology hub in the South," said Kerry DeLay McCane, President and CEO of IP Watch, an intellectual property management technology company founded in Florence. "We need a supportive technology infrastructure and we need new ideas from the community." There were many tremendous concepts introduced and finalists presented their ideas to a public audience on March 11 in the Guillot Center.
The first place winner in each of the three categories - Middle School/High School, College and Community - was awarded $500 cash to move their innovation forward.
THE WINNERS
Hill Leavitt won for the Middle School/High School category with his solar powered cellphone charging stations idea. The fifth-grader proposed the charging stations would be available for public use and set in areas where outdoor public events are frequently held.
Jason Summer won the College category with his pitch to make The Shoals a research hub for electric cars. All car manufacturers are moving in the electric car direction and Summer suggested UNA could become a research center and Northwest-Shoals Community College could offer job skill training courses.
Mark and Carol Pyle won the Community category for their Shoals tourism app, which would provide information on area landmarks, tourist attractions, merchants and restaurants.
For more information, contact Dr.Santanu Borah at 256-765-4605 or sborah@una.edu.
March 2015
February 2015
January 2015
December 2014
Archives