First Strategic Doing Conference a Success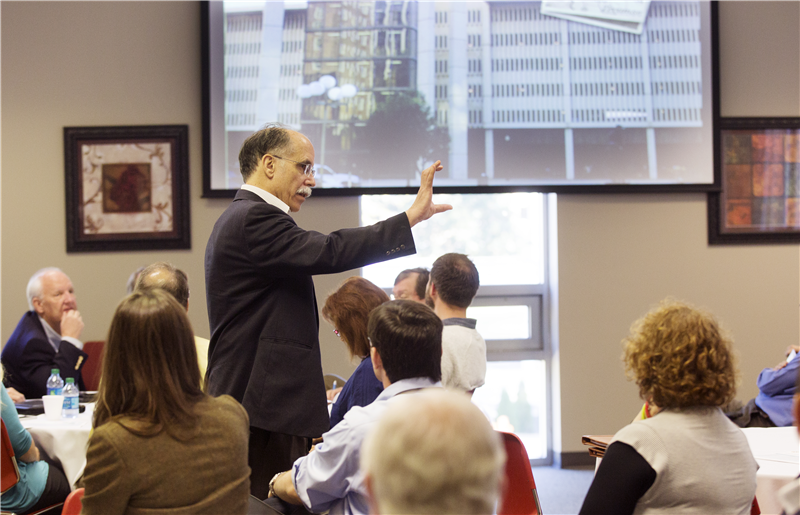 On October 20, over 125 people from the tri-state area attended UNA's first Strategic Doing conference. The UNA College of Business hosted Ed Morrison, thought leader and preeminent expert on regional development and civic collaboration, and Regional Economic Development Advisor at the Center for Regional Development at Purdue University. Morrison led conference attendees through workshops and conversations on the topic of Strategic Doing, an action-driven concept that fosters regional economic development through collaboration and leadership.
Executive Director of the Shoals Entrepreneurial Center, Giles McDaniel, was one of the innovation team leaders formed through the conference. "The process of Strategic Doing is much more effective than the standard Strategic Planning process, which can drag on for months before anything gets accomplished," he said. "This is a much more make-things-happen kind of process. Things start happening immediately; they're just off and go, rolling from the beginning." McDaniel said more than 40 leaders from the Shoals community formed five teams to organize and execute pathfinder projects designed to facilitate economic development in our region. "Each team came out of the conference with a twelve-month project and all five teams are set to accomplish something major in those 12 months," he said.
The Shoals Chamber of Commerce was represented at the conference and has taken a leadership role on the forefront of boosting regional economic growth. President of the Shoals Chamber of Commerce, Steve Holt, said  "I believe the Strategic Doing workshop held at UNA, is the beginning of a significantly more vigorous effort, led by UNA, to engage the greater northwest Alabama, southern Tennessee and eastern Mississippi region in economic and community development. Ed Morrison introduced us to a fast paced planning and development process that will carry us forward together. The Shoals Chamber of Commerce is very pleased to be a leader and participant with UNA and other organizations in practicing Strategic Doing."
Participants traveled from within a 75 mile radius of the UNA campus to attend the conference. Ed Morrison, has conducted strategy projects with economic and workforce developers in the U.S. for over 20 years. His work emphasizes the strategic value of focused regional collaborations and open innovation, and network-based models in today's global economy, accelerated by the Strategic Doing discipline he developed for this purpose. The discipline is widely used across the United States and is gaining International attention. The process emphasizes leadership roles not as singular visionary entities, but as shared responsibilities supported by open networks of community members working together to accomplish forward thinking goals.
UNA was pleased to host Ed Morrison for the event and happy to welcome so many community leaders to the inaugural conference.  To find out how to get involved with the Strategic Doing project, please contact Janyce Fadden, Executive in Residence at UNA.
November 2014
October 2014
September 2014
August 2014