Janyce Fadden, Executive in Residence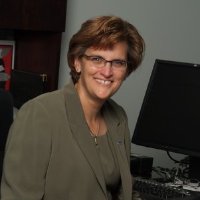 Janyce Fadden joined the UNA staff in September 2013 as the College of Business Executive in Residence with, among others, the goal of introducing and implementing successful business engagement strategies. She previously served as President of the Rockford Area Economic Development Council in Rockford, Illinois, and was responsible for managing business retention and expansion, new business recruitment, business startup and entrepreneurship, and improving the business climate in that region. Additional experiences as President, Vice President, and General Manager for major multinational corporations including Honeywell, General Signal, Applied Power, Pacific Scientific, and Danaher make her a welcome and valuable asset to UNA and its community. Janyce earned her Bachelors of Science in Engineering and Management from Clarkson University in Potsdam, New York, and her Masters of Business Administration from Northern Illinois University. She moved to Florence, Alabama, in 2013 with the intention of retiring near her family but thought she might teach a few classes at UNA. Through existing connections and six degrees of separation, Dean Carnes saw that she could fill a need to help the Shoals community develop and prosper, but also aid with programs that encourage growth within the College of Business, as the Executive in Residence. Thankfully, she accepted the offer.
"We are really looking for goals that incorporate the College of Business with what modern industry is doing and giving it a place for businesses to help shape the curriculum and UNA students, while also fostering local business," she said. "Many of our graduates have to travel beyond a 75 mile radius to find a job. We want to help them stay local. Part of Strategic Doing is figuring out how to bring the region prosperity to keep people and jobs in the area."
As a certified Strategic Doing leader, Janyce helped organize last month's first Strategic Doing conference held at UNA, which attracted local business owners interested in engaging and facilitating economic growth in the area.
"I enjoy Strategic Doing because it's more than facilitating," she said. "It's a way of guiding conversation so people move forward into doing." Janyce is utilizing her deep knowledge of lean management to create and implement an effective recruiting process that will attract students to the MBA program and ensure that these new students are nurtured throughout their MBA education. Working in tandem with the recruitment program is a push to expose more students to internships and to bring in more businesses to assist in creating those internships, which in turn educates students in areas that are most relevant to potential employers.
"I've never worked in higher education before," she said. "I'm excited to be here and excited about how open the College and the community is to the work we're doing. It's a really good time to be introducing these initiatives, and response from the school and the business community has been very positive." The Idea Audition taking place later this month is one of those key initiatives. "We've had tremendous response for the Idea Audition," she said. "It's really outstanding."
Janyce can be reached at 256.765.4413 or jfadden@una.edu.
November 2014
October 2014
September 2014
August 2014