UX Expert Jared Spool Gives Feedback to HCI/UX Students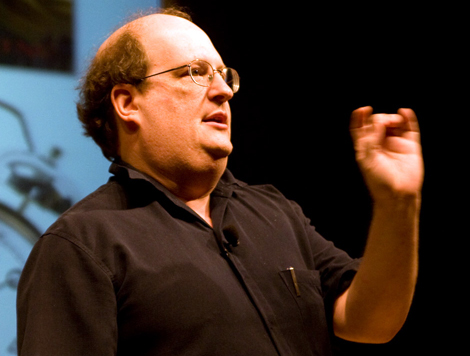 UNA College of Business sponsored a luncheon at the Jackson Center in Huntsville, Alabama, on October 15, which was organized for area professionals working in the User Experience (UX) field, and featured keynote speaker and UX expert Jared Spool. Over 80 User Experience professionals attended the event, in addition to 11 UNA students who are studying HCI/UX.
The luncheon provided an opportunity for UNA to bring attention to its HCI/UX program among Huntsville area professionals. UNA students also had a unique opportunity to engage with Spool before the event. "They got to interact personally with Jared and get feedback on their projects," said Assistant Professor of Computer Science and Information Systems Jason Watson. "He spent about 20 minutes before his keynote address talking with them about their individual projects, and they received significant value from that."
Jared Spool founded the company User Interface Engineering - www.uie.com - in 1988 and has built it into the largest firm of its kind, a leading research, training, and consulting firm specializing in web site and product usability. Spool has been an authority in the User Experience field since 1978, before the term existed, and speaks at more than 20 conferences a year. Professional Writing major Lauren Hayes was one of the UNA students able to speak with Spool about her project. "We made several posters that included what we have been working on this semester and past semesters," Lauren commented. "Jared came over, inquired about our posters, and provided a lot of information that we had not previously considered. We were very interested in all of the advice that he had to offer us because of his overwhelming knowledge concerning HCI/UX."
Jonathon Cole Marlar, a Computer Science student, echoed Lauren's enthusiasm. "Talking with Mr. Spool about our HCI/UX Capstone Project was similar to our team bouncing ideas back and forth, wondering how we can improve our prototype. It's like we had a new team member with some really good questions that we didn't ask when making our prototype," Jonathon explained. "What I really enjoyed about his presentation, was learning how design can go further than just technology. Business models, for instance, could be carefully designed based on current events to create something new and profitable."
Learn more about HCI/UX at UNA or by contacting the Computer Science and Information Systems Department at 256.765.4819 or dwnickels@una.edu.
February 2016
September 2015
July 2015
March 2015
Archives