Student Trip to China a Great Success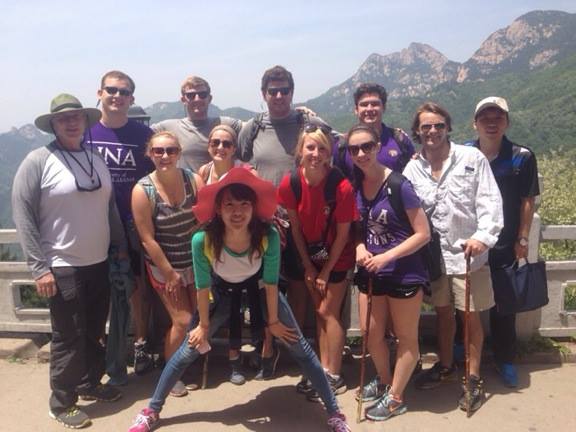 During the May 2014 intersession, ten students representing various departments accompanied Dr. Dan Hallock on the fourth annual study abroad in Tianjin, China, where they earned course credits and a cultural experience that will stay with them for a lifetime.
Lauren Copeland, a double major in management and marketing was one of the ten students on the trip said, "I feel like I learned more about myself and my future in three short weeks than I have my whole four years of college. It gives me a new respect for our international students as hosts and makes me want to reach out more in global partnership."
The China trip is led by a different College of Business professor each year and the 2014 excursion was led by Management and Marketing Professor Dr. Dan Hallock. The UNA faculty member also teaches the class at the Tianjin Foreign Studies University location. This class changes each year based on the professor's area of expertise. Dr. Hallock taught a Leadership Class, for which students earned three credits in upper level management coursework.
Coursework requirements included keeping a journal and turning in a paper, though the bulk of the intersession study happened outside the classroom. They visited an elementary school, a high school and a university to observe how the Chinese culture conducts educational programs. Visits to a manufacturing plant, restaurants and even a Wal-Mart provided hands-on insight into how the country organizes its economic infrastructure.
Other day trips included a visit to Confucius' home; the Beijing National Stadium, home of the 2008 Summer Olympic games; the Great Wall and Mount Tai; and numerous places in Beijing. "We had a great group of students," Dr. Hallock said. "This was a life changing event for them."
Management Major Brennan Parrish agrees with Dr. Hallock. "Studying abroad in China was incredible. Being able to fully immerse myself in a culture on the other side of the world has really changed my life. My education experience has been tremendously improved from the trip, because it allowed me to see outside the box and learn more effective business practices. It will help me succeed because my knowledge base has increased so much from experiencing new things. One side note - America has got to get a high speed rail. Going 190 mph on an electric train was awesome!"
An ongoing part of the study abroad program requires students to serve as guest speakers for various events about their experiences on behalf of the College of Business and their respective departments of study. This keeps them connected to the COB community and helps to generate interest for future students and area businesses' support. "It's a great thing that we do in the COB and I hope to perpetuate it," Dr. Hallock said.
Students accepted for the trip may be able to receive financial assistance through COB partnerships with area businesses.
"I wish I could accurately describe in a few words how the trip was. It was absolutely the best thing I've done in college. I've been out of the country before, but this was just different. It was incredible, and it was a blessing to have been given the opportunity." - Lauren Copeland
October 2014
September 2014
August 2014
July 2014