Undergraduate Student Excellence: Jordan Graham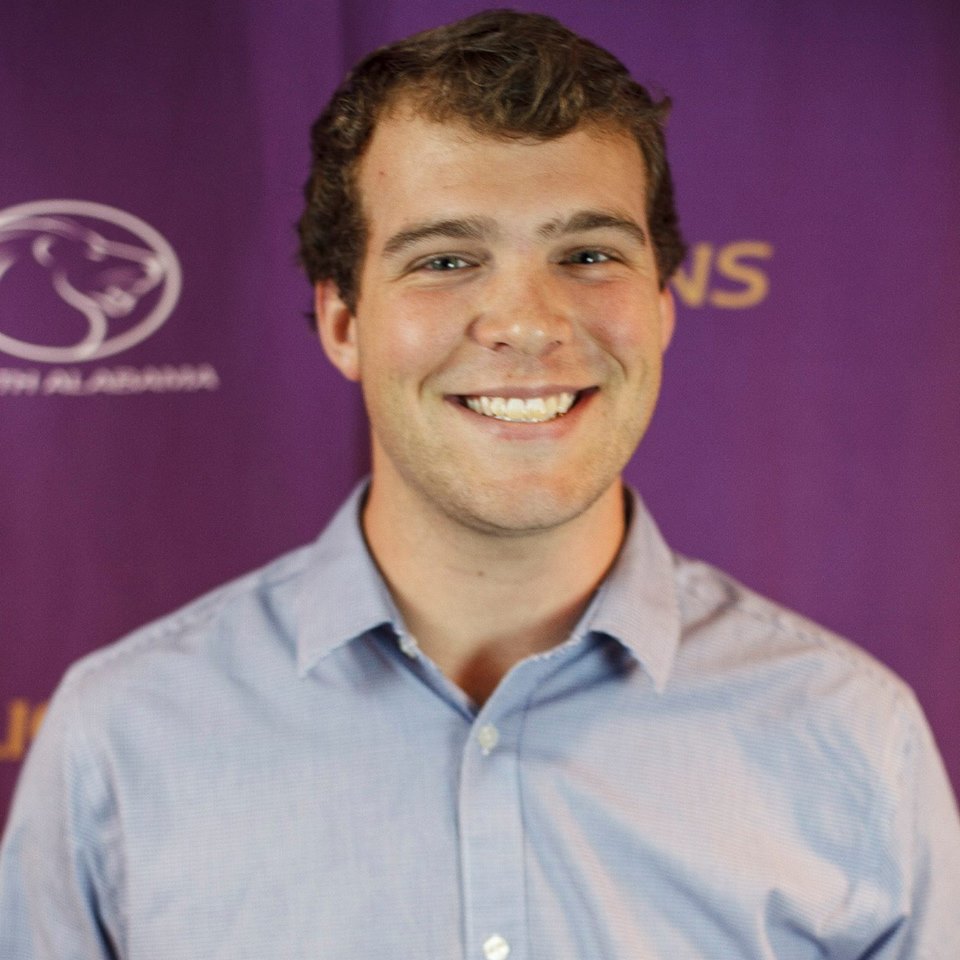 Senior Jordan Graham will graduate this December with a degree in Business Administration, concentration in Human Resources, and a Minor in Spanish. "I fell in love with UNA.," he said. "This is actually the only school that I toured."
Jordan began visiting the UNA campus several years before his senior year in high school when he would accompany his mother who took professional education classes in planning and zoning at UNA's East Campus for her position with the City of Gardendale, Alabama. "I love going to UNA," he said. "I toured the school two or three times."
While pursuing a Minor in Spanish, Jordan spent four months in a study abroad program in Costa Rica. He took three Spanish classes and lived with a host family that did not speak English. "I learned very quickly," he said. "Studying abroad is part of the college experience. Every student should do that." Jordan knows his experience in Costa Rica is very attractive to potential employers and he is thankful to have had the opportunity.
Jordan has been involved with numerous campus organizations, including participating as a Senator with the Student Government Association and serving as Chair of the Budget Oversight Committee, which allocates money to student organizations on campus. He worked as a Resident Advisor for two and half years, is currently a Student Leadership Consultant, and serves on several other committees including The Distance Learning Advisory Committee and the Technology Advisory Committee. He was recently chosen as a Promising Alumni, an honor bestowed by UNA faculty and staff who carefully selected eight students from a pool of 150 nominees. His commitment to the Student Government Association has been especially fruitful, where he met mentor Tammy Jacques, former Director of Student Engagement and now Title IX Coordinator. "She was always there for SGA as a whole and as a Senate Advisor. Anytime we needed help with something or advice, she was there. For me personally, she has been nothing but encouraging in everything that I do, which is great," he said.
Jordan has completed three internships in New York City, two with Conde Nest in the finance department and a third with JP Morgan Chase, in the resolution and recovery department in risk management. For the JP Morgan Chase internship, Jordan was one of the 16 chosen applicants among 450 who applied. He expects to eventually live in New York City, but first, he has plans to obtain an MBA in Business Administration (concentration yet to be decided, he said) from UNA.
When he's not studying, Jordan likes to spend weekends at home in Mount Olive, working in the garden, knee boarding on the lake, and generally spending time outdoors.
"UNA is awesome," he said. "UNA is my home. I think it's amazing that we have the number one mascots in the nation with two live lions, which is absolutely awesome, and we have some of the best teachers here, most definitely."
October 2014
September 2014
August 2014
July 2014