Alumni Focus: Steve Pierce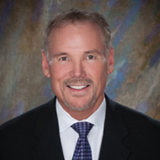 Steve Pierce opened his State Farm Insurance Agency in Florence 39 years ago, just after graduating from UNA with a Bachelors degree in Accounting in 1975. During that time, he served 17 years on the Florence City Council, as President of both the Florence Jaycees and the downtown Florence Kiwanis Club, board member of the Northwest Alabama American Red Cross, Chairman of Lauderdale County 911 Board of Directors, board member on the Shoals National Championship Committee, and is presently a UNA Board of Trustee and member of the UNA College of Business Advisory Board.
Pierce had many mentors while attending UNA, but one professor, Dr. Barry Morris, who is now a city council member, became a friend. "When I was appointed as a trustee, I sort of became his boss. We laugh about that a lot," Pierce said. Pierce underscored the importance of community involvement, and lends great credit to those in the community who have helped him become successful in business, specifically UNA faculty and staff. He named the university as the economic engine that powers the Shoals; faculty, administration, students and alumni have a strong reputation for giving back and for making the community a better place to live and work.
When Pierce attended UNA in the early 1970s, his experience was one that still resonates with many UNA students. "I was a non-traditional student and my professors were great about understanding that," he said. Like many UNA students, Pierce worked most mornings and evenings while attending classes but found that did not deter his professors from taking an interest in him. They recognized his dedication to school and were supportive and accommodating. "The beauty of UNA is that they do take an interest in their students," he said.
Pierce continues that tradition, in part, by speaking to Honors classes in the College of Business about his professional experience, offering guidance and insight for students. "I've always been a big believer that a person needs to give back to their community," he said. His daughter, a recruiter for Google in California, has also spoken to Honors classes, specifically about preparing for the post-graduation job hunt. Employers now look to what clubs and organizations potential hires joined and contributed to while in school. Pierce stressed the need for students to get involved before graduation, and to continue a life-long dedication to community involvement.
Pierce has been a long time UNA athletics enthusiast. While a student at UNA, he and classmate Danny Killen established the Bleacher Creatures for kids age six through the 6th grade, which provided entertainment activities during football games and gave parents an opportunity to watch the game. Pierce has been a campaign leader for the university's move to Division 1 athletics and an avid attendee of UNA football games. "Over the years, my wife and I have become friends with the coaches and have had an opportunity to support our alma mater in many ways."
He wears his Lion Pride for both UNA athletics and the university's academic reputation. "The College of Business is a gem. Our MBA program is second to none and our College of Business is one of best business colleges in the country," he said. "Our professors, the Dean, the students, faculty and alumni have made the College of Business what it is."
September 2014
August 2014
July 2014
June 2014