Dean's Welcome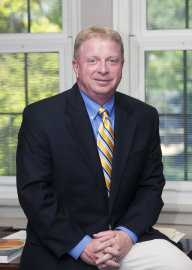 Welcome to the inaugural issue of the University of North Alabama's College of Business (COB) monthly e-mail newsletter. There are many exciting events and programs happening in the COB. In this edition you will learn more about our new COB alumni social media site, our Center for Professional Selling, our new academic program in Innovation Engineering, and a profile on one of our student leaders, Laura Giles.
As an alum or friend of the COB you are an indispensable part of our future success. This newsletter will keep you up to date on all of our new developments. We have excellent students at UNA, and they rely upon your support to provide internships, jobs, scholarships, and other support. While the commitment of our faculty and staff provides the foundation for excellence, your support provides the margin of excellence that separates the UNA COB from the rest.
Please consider becoming an annual donor to the College of Business. No matter how large or small your donation, as more alums support the COB this inspires our faculty and students to greater levels of excellence. More Information
The College of Business has launched a new social media site to connect COB alumni through a professional and easy to use platform at http://unabusinessalums.com. Alumni can login using their LinkedIn, Facebook or email credentials. If you have not already joined, I hope you will take a couple of minutes to do so now.
It has been a privilege to serve as the Dean of the College of Business since July 2013. If I have not had the opportunity to meet you I would love to do so. If there is anything that the UNA COB can do for you or your business, please let me know (gacarnes@una.edu; 256.765.4245).
Gregory Carnes
Dean, College of Business
Raburn Eminent Scholar of Accounting