Undergraduate Student Excellence: Laura Giles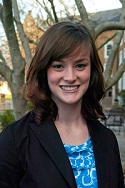 The University of North Alabama has some of the most accomplished students in the state, and Laura Giles is one of them. Laura recently completed her BBA in Accounting and is now working towards her Accounting MBA. Laura grew up on a poultry farm in Cornersville, Tennessee. Growing up on the farm is where Laura developed the skills and character that have attributed to her success at UNA. When she visited UNA for the first time, she immediately felt at home with the campus and accepted her scholarship offer. Laura has contributed to the University in numerous ways, including serving as Student Government Association President, being selected as a member of the LaGrange Society, and promoting UNA to community colleges as a College of Business Ambassador.
Laura is a fantastic mentor for any student considering attending UNA. She advises high school seniors not to discount a school just because that university does not currently offer their current desired major. She went on to say "that UNA was perfect for her because the campus is big enough that you feel like you are at a university, but just the right size that you are someone. You can open doors for yourself."
Laura began her journey at UNA as what she calls "an introvert in social situations," but has since matured into a more outgoing leader, thanks to her involvements at UNA. She took advantage of many opportunities to grow as a leader at UNA. Laura explained that UNA has been a great experience for her because her professors and advisors worked closely with her to mentor her and advise her on her career path. The classes she took in the COB also taught her how to become a problem solver and have given her the confidence and ability to work in less familiar or new situations.  UNA also provided Laura with the opportunity to experience two internships with excellent accounting firms in North Alabama.
Laura stated some of her favorite and most admired aspects of the College of Business:
"... is my personal interaction with the professors. I believe my personal relationships with my professors is the cause of my collegiate success. Everyone is treated fairly and has a chance to prove themselves and differentiate themselves. At UNA, professors are very understanding and work with each student to ensure their success."
Laura received two outstanding University awards this spring: University Woman of the Year, and The Turris Fidelis Key. The Turris Fidelis Key is awarded to no more than two UNA seniors on the basis of outstanding service to the University as well as superior scholastic achievement. Laura has accepted a job with KPMG in Nashville, Tennessee as an audit associate, helping her to meet one of her career goals by becoming an auditor for one of the "Big Four" accounting firms. She will begin this job in 2015, after she completes her MBA at UNA. With her experience in leadership, the self confidence she has developed, and the support of her professors and advisers, Laura will continue her journey to leadership and success.