UHS Medical Services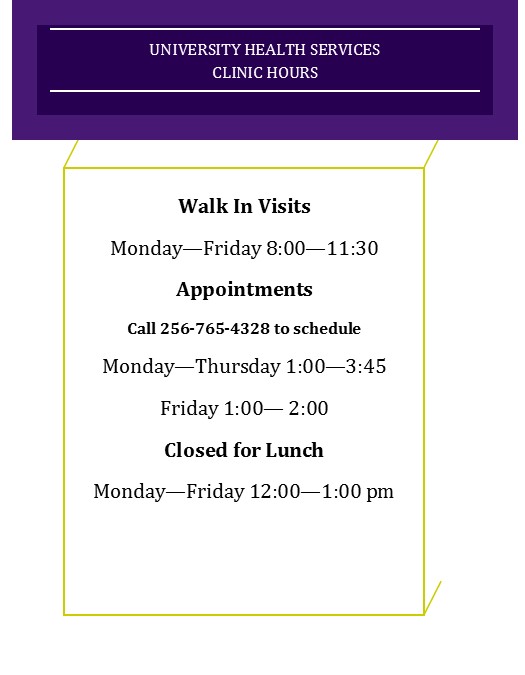 UHS Medical Services include but are not limited to:

Treatment of short term illnesses
Minor injuries
Suturing or stapling of lacerations
Splinting
Referrals for specialty care
Basic physical exams
Allergy injections
Pap Smears
Immunizations and vaccines
Blood pressure checks
Wellness screenings
Health education offerings
Please come to University Health Services to discuss your health care needs. We are here to serve you!
Class/Work Excuses
If a student has visited University Health Services, they are given documentation of the visit with recommendations of the healthcare provider. It does not guarantee that the student will be excused from class or work. We do not back date excuses.
Insurance Filing
UHS does not file on insurance of any kind. Questions regarding coverage of services by your insurance plan should be directed to the insurance provider.
Confidentiality
All medical records are strictly confidential. No one has access to your medical file without your written authorization.
STATEMENT OF NONDISCRIMINATION
It is the policy of the University of North Alabama to afford equal opportunities in education and in employment to qualified persons regardless of age, color, creed, disability, national origin, race, religion or sex, in accordance with all laws, including Title IX of Education Amendments of 1972, Title VII of the Civil Rights Act of 1973, Americans with Disabilities Act, Civil Rights Act of 1991, and Executive Order 11246. The coordinator for nondiscrimination policies for students is Irons Law Firm, 219 N Court Street, Florence, Alabama 35630. The coordinator for employees is the Director of Human Resources and Affirmative Action, Room 222, Bibb Graves Hall or telephone 256.765.4291