Collier Memorial Library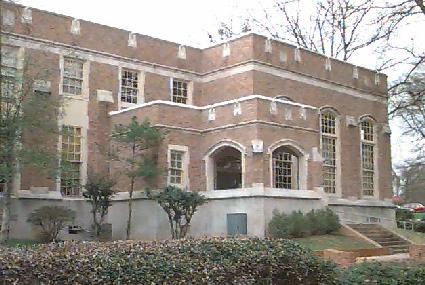 At first it was in a single room on the second floor of Wesleyan Hall. In 1909, it moved to a larger room in The Annex. Over twenty years later it was located on the second floor of Bibb Graves Hall, easily "the most popular place on the campus-and one of the most beautiful." By the mid-1930s it was the largest one among the four teachers colleges in the state. But it was not until March 1940 that the library found a permanent home on campus.
Of Tudor architecture, brick and Alabama limestone, the library cost $85,000 to build, money made possible by the federal New Deal agency, Work Projects Administration. Among its many "modern" features were: Venetian blinds, cork linoleum flooring, golden oak tables, hand carved oak shields on walls, and "room in which to move about without disturbing fellow readers." High ceilings, many windows, and student council fans also ensured a "cool place for summer reading."
Named Collier Memorial Library in November 1948 in honor of C. B. Collier, former Dean of Florence State Teachers College (1918-1946), the building continued to grow. First there was the $500,000 expansion (opening April 1963) that effectively doubled the size of the library; a second expansion made possible by a $2.5 million state bond issue in 1982 nearly doubled the size of the library again.