Florence and Striplin Halls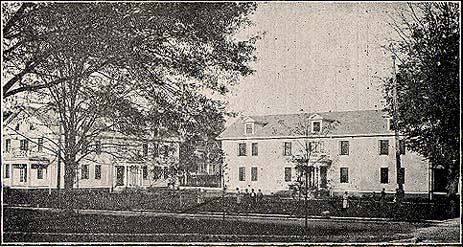 Both Florence Hall and Striplin Hall were built in 1918 by the City of Florence for a total of $50,000 to handle a housing shortage during World War I, when the war munitions industry and nitrate plants brought thousands into the Shoals area.
Florence Hall was originally intended as a rooming house for women students. Striplin Hall (named for M. M. Striplin, a member of the board of trustees of the State Normal School at Florence) was an 8-unit apartment building with two bedrooms and a kitchenette per unit. Women students were also the original occupants of Striplin Hall, but by the late 1940s Striplin had become low rental housing for married faculty and staff, while men students exclusively resided in Florence Hall.
Considered "among the most attractive buildings in the city" when they were first completed, Florence and Striplin Halls were not owned by the university, nor were they located on university property, until they were purchased by the state in 1941.
Continuously occupied, Florence and Striplin Halls were razed in the 1970s. Today, the asphalt parking lot south of the President's Home on the corner of Seminary and Irvine marks their former location.