Kilby Hall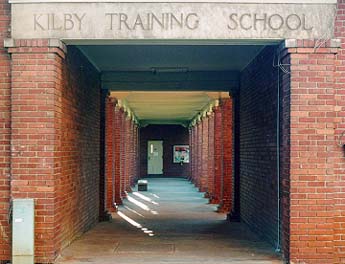 UNA's first model training school was established in 1885 and housed in Wesleyan Hall. After years of crowding and make-shifts for a room, Kilby Hall was constructed. First opened in 1923, it was "a joy to everybody because it is modern, convenient and scientific." Located directly behind Wesleyan Hall, Kilby Training School was named for Thomas E. Kilby, who served as governor at the time of the building's dedication.
Kilby Hall was built in two phases. Phase I, made possible beginning in 1920, when the legislature appropriated $30,000, resulted in a 1-story brick structure with two symmetrical wings of six rooms each and a covered walkway intersecting the center of the wings. More than 300 students were taught each year during the 1920s by student teachers under close supervision. Later, a well-equipped playground and a library were added to the complex. The end of Phase II occurred in 1930, when an auditorium that seated 500 children was ready for occupancy. Kilby joined the city school system the previous year.
With the relocation across campus of a new Kilby School in 1964, Kilby Hall became the new home for the Department of Education and Psychology. Today, the Math Department occupies the building.