O'neal Hall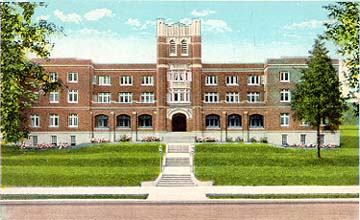 Prior to the construction of UNA's first dorm, students resided with families in nearby homes. "The Dormitory for Women" came into being thanks in large part to a state appropriation of $50,000, approved on April 20, 1911 by Governor Emmet O'Neal, a Florence native. Total pricetag for the building (including 8 acres of adjoining property) was $91,000.
An imposing brick edifice with stone trimmings, beautifully situated to the south of and facing Wesleyan Hall and The Annex, the dorm received its name "O'Neal Hall" in 1930, per suggestion of the ex-governor's influential nephew, Edward A. O'Neal III, president of the Alabama Farm Bureau.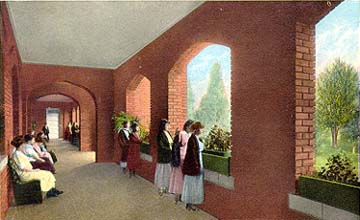 Constructed to accommodate 125 students and their belongings, the 4-story building contained a reception hall, lounge, offices for the matron/housekeeper, guest rooms, and an exercise room measuring 36 by 72 feet. The college cafeteria was also located on the first floor, and by the mid-1950s the student center ("The Lion's Den"), complete with TV lounges and laundering facilities, occupied the building.
O'Neal Hall was torn down in the early 1980s to make room for an expanded Student Union Building. Although the building is no longer extant, the steps leading up to O'Neal Hall from Wesleyan Avenue are still visible.