Wesleyan Annex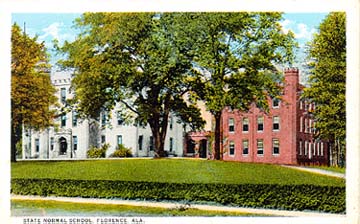 Located on the north side of Wesleyan Hall, The Annex was completed in 1909. Designed by W. T. Warren of Birmingham, the building features the same octagonal towers and battlements as Wesleyan Hall and a cloister connecting it to the "mother building." Plans to add a corresponding wing to the south side of Wesleyan Hall never materialized.
Standing four stories tall (including its basement), The Annex cost approximately $12,000, with one-third paid for by the Peabody Fund and the balance by student fees. "Built not for beauty, convenience, nor endurance, but solely for economy," it originally contained seven large rooms. A laboratory and manual training shop occupied the first floor, while a public school music and piano room was located on the third. In between resided the new University library (moved from Wesleyan), whose more than 6,000 volumes filled the entire front half of the second floor. Classrooms took up the back half. In the basement were shower baths for women students and a boiler room that produced steam heat for the entire building.
As attendance increased, the library in The Annex became cramped for space, as indicated in the following statement made in 1923: "The library is simply a name. The books are stacked in the dark corner of a room that masquerades under the name of a library, the other half of the room being used for the readers, or such a portion of them as can find space in which to sit down."
Following the removal of the library to Bibb Graves Hall in 1930, the Department of Education occupied The Annex, along with Library Science and Home Economics, complete with food and clothing labs, kitchens, and sewing machines. Twice a month in the mid-1950s, faculty gathered around a "beautifully decorated" table in The Annex could be served a luncheon by the Domestic Service department. In 1965 the Education Department moved from The Annex to old Kilby Hall. Beginning in 1969, the Military Science Department established residency in the building, and today The Annex is used chiefly by the ROTC program first begun at UNA in 1948.