Wesleyan Hall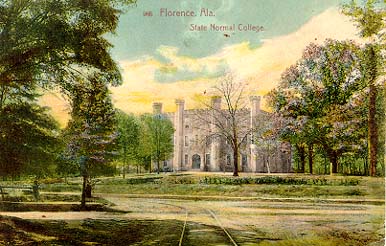 The University of North Alabama commenced as LaGrange College in 1830 but did not exist in its present location until 1855, when President R. H. Rivers and most of the faculty and student body relocated from Lawrence Hill, near Leighton, to Florence, a distance of some 15 miles, to become Florence Wesleyan University.
The "mother building" of the University of North Alabama is Wesleyan Hall, completed in 1856. The three-storied, Gothic Revival structure, arranged in an inverted T plan, with octagonal turrets projecting above the cornice or parapet line, was designed by Adolphus Heiman of Nashville, while Zebulon Pike ("Uncle Pike") Morrison, cabinet maker, funeral director, and mayor served as builder. Estimated cost for the original building is $20,000, a figure reduced significantly by the use of slaves as brickmasons.
Long viewed as the "pride of the student body," Wesleyan Hall was for many years the University. Suffering only minor damage during the Civil War, the University over the next sixty years underwent three name changes. On December 14, 1872, Florence Wesleyan University became Alabama's first State Normal School for the education of white male and female teachers. Its name was State Normal College at Florence from 1887 to 1913, before reverting to its former designation of State Normal School until 1929.
In addition to providing classrooms, Wesleyan Hall served until 1930 as the administration building for ten university presidents. It also housed the Model Training School (1895-1923), a chapel, and until 1909 the college library, a room made by partitioning off a part of the hall on the second floor.
Today this "Stately Sentinel" - "a pillar about which life has ebbed and flowed"-is the administrative building for the College of Arts and Sciences, with offices and classrooms for the Departments of Geography, Psychology, Foreign Languages, and classrooms only for the Department of History & Political Science.
Furthermore, legend has it that during the Civil War, Ulysses S. Grant may have used this building as a headquarters for his troops. It has also been said that his troops also may have slept in various parts of the building.