Ernest Borgnine - Script Collection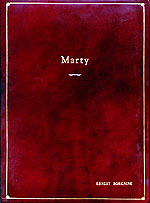 The Collier Library Archives at the University of North Alabama holds the personal collection of scripts from Ernest Borgnine. These original leather bound scripts include over one hundred movies and numerous television shows from 1949 to 1999. The scripts span the long and distinguished career of Ernest Borgnine and include the script for the screen adaptation of "Marty" which earned Mr. Borgnine an Academy Award for Best Actor in 1955. Among the other scripts in the collection are those for "From Here To Eternity" (1953), "The Dirty Dozen" (1967), "The Wild Bunch" (1969) and "The Poseidon Adventure" (1972). Television scripts include the series "McHale's Navy" (1960's), "Little House on the Prairie" (1974), and "Airwolf" (1984). Mr. Borgnine became acquainted with the University of North Alabama through his friendship with fellow actor George Lindsey. His fondness for the University and its students prompted him to donate his scripts to UNA where they could be studied by future film students. Mr. Borgnine officially presented the scripts to the University on December 17, 1999.
For more information about the scripts in the collection, contact the Archives Department at 765-4226.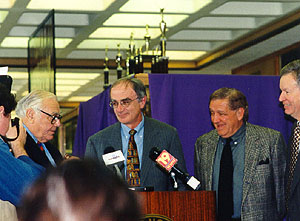 Borgnine presenting his scripts to the University of North Alabama on December 17, 1999. (l-r) Borgnine, Dr. Garry Warren (Dean of Information Technologies), George Lindsey (UNA alumni and friend) and Dr. Robert L. Potts (UNA President).
Index
Biography