W.C. Handy - Letter to his father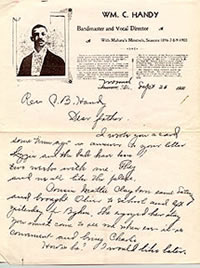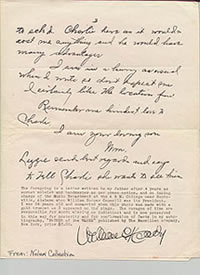 A copy of a letter written by Handy to his father on September 26, 1900.
The text of the letter reads:
Sept. 26, 1900
Rev. C. B. Handy
Dear Father,
I wrote you a card some time ago in answer to your letter. Lizzie and the baby have been [portion missing] two weeks with me. They [portion missing] and me all like the place.
Cousin Mattie Clayborn came Saturday and brought Oliver to school and left yeserday for Bgham. She enjoyed her stay. You must come to see me whenever it is convenient and bring Charlie.
How is he? I would like later [portion missing] to school Charlie here as it would not cost me anything and he would have many advantages.
I am in a hurry as usual when I wrote so don't expect [portion missing] I certainly like the location.
Remember me, kindest love to Charlie.
I am your loving son,
William
Lizzie sends best regards and says to tell Charlie she wants to see him.
Note attached reads:
The foregoing is a letter written to my father after 4 years as cornet soloist and bandmaster as per press notice, and on taking charge of the Music Department at the A & M College near Huntsville, Alabama when William Hooper Councill was its President. I was 24 years old and unmarried when this photo was made with a gold trumpet as I appeared on stage. The ravages of time are responsible for words missing or indistinct and is now preserved in this way for posterity and for confirmation of facts in my autobiography, "Father of the Blues", published by The Macmillan Company, New York, price $3.00.
William C. Handy