Inventor of Social Media App Wins Idea Audition

Oct. 11, 2017
Florence, ALA. – Vicinidi, a social media notification app that sends messages within a specified predetermined zone, took home first prize in Tuesday night's Shoals Idea Audition. App developer Carl Holden received $5,000 for this winning entry in the entrepreneurship competition.
Holden says he invented Vicinidi as a location-based app so that specific targeted messages could be controlled through geofencing, a GPS function that creates a virtual geographic boundary. This technology enables software to trigger a response when a mobile device enters or leaves a particular area. Vicinidi then releases geographically focused messages to others who have downloaded the social media platform.
The Shoals Idea Audition is an annual event sponsored by the University of North Alabama, Bank Independent, and the Shoals Chamber of Commerce. For four years this event has taken place under the auspices of Shoals Shift, a creative effort through the Shoals Entrepreneurial Center and partially funded by the Appalachian Regional Commission to attract, nurture and promote The Shoals creative and tech economy. The event is designed to foster new businesses, help entrepreneurs polish their presentations, and introduce community leaders who might be instrumental in helping make their ideas a reality. The top scoring ideas will be awarded a $5,000 cash prize, with $2,500 and $1,000 to second and third-place winners, respectively.
The second place winner was Shoals Take Out, an existing Florence-based food delivery company that auditioned to obtain funding to expand technology in their business. Zip Vending took home third place with their proposal to development smarter and more customer-friendly vending machines.
Over 30 competitors presented their ideas to a preliminary round of judges. These presentations were gleaned down to five who presented in a final round to judges and an audience of about 150 UNA students and guests.
"I am glad I didn't have to judge these competitors," stated Caitlin Holland, Chamber President. "All the applicants had very producible ideas. I hope everyone continues the research and development of their products or services and will continue the trend towards innovation and entrepreneurship going on in the Shoals at present."
Keynote speaker for the event was Tasia Malakasis, owner and president of Belle Chevre, an award-winning cheese producer located in Elkmont, Alabama. She told her story of developing and marketing a product without any prior experience but being guided by passion. Malakasis stated, "As a literature major who started a career in the technology sector, I never dreamed I would return to Alabama to lead the operations of a goat cheese manufacturer." Malakasis has grown Belle Chevre into an internationally recognized distributor of artisan cheeses and have been featured in Fortune and Business magazines and on Oprah and Good Morning America.
Shoals Shift, who initially developed the Idea Audition format, has other opportunities for budding entrepreneurs to showcase their conception. Shoals Alabama Launchpad is a partnership among the University of North Alabama College of Business, the Shoals Chamber of Commerce, and the Shoals Entrepreneurial Center. It is the first regional expansion for Alabama Launchpad, a program of EDPA. Startups are invited to compete for funds in a regional challenge based on the successful statewide Alabama Launchpad challenge and the winners could receive a share of $100,000. The Launchpad event is scheduled for February 20, 2018 with an application deadline of November 1, 2017. More information can be found at www.alabamalaunchpad.com/regionals/shoals.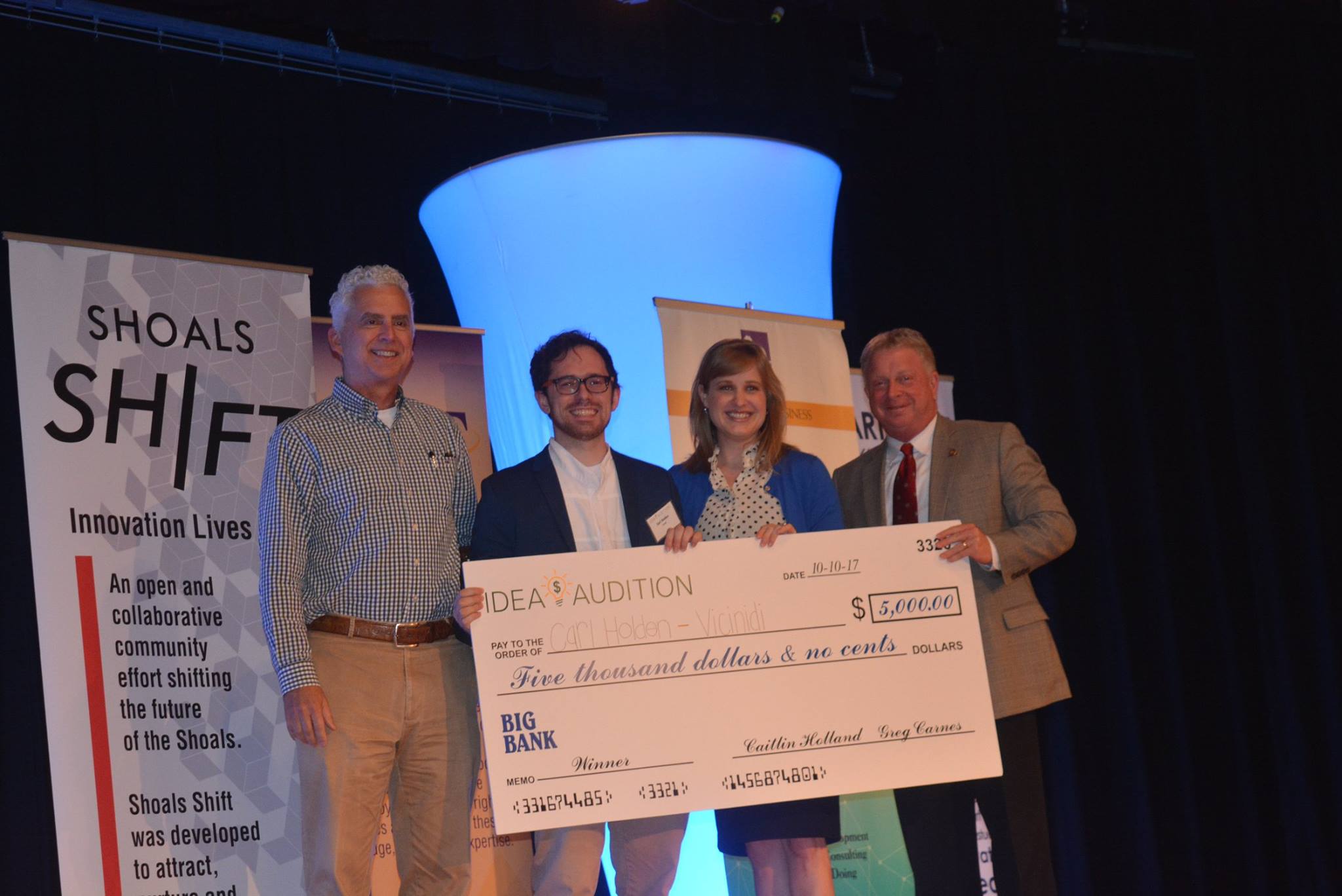 Attached picture, left to right: Macke Mauldin, President of Bank Independent; Carl Holden of Vicinidi; Caitlin Holland, President of the Shoals Chamber of Commerce; Greg Carnes, Dean of the College of Business at UNA.