Shoals Alabama Launchpad Event Supports Area Innovation Startups

Oct. 16, 2017
THE SHOALS, Alabama - The Shoals Alabama Launchpad is now accepting applications for the 2017-2018 cycle for the regional startup competition. The application deadline is November 1. The preliminary pitch event is scheduled for January 11, 2018 and the finals are scheduled for February 20.
The competition is designed for new, independent ventures in the pre-seed, startup or early growth stages – or for the expansion of an existing business into a new high-growth market.
Shoals Alabama Launchpad is a partnership among the University of North Alabama College of Business, the Shoals Chamber of Commerce, and the Shoals Entrepreneurial Center. It is the first regional expansion for Alabama Launchpad, a program of EDPA. Startups from the Shoals area are invited to compete for funds in a regional challenge based on the successful statewide Alabama Launchpad challenge and the winners could receive a share of $100,000.
Last year Sycamore Physician Contracting, a Florence-based service that matches emergency room physicians with hospitals, received the highest dollar amount at $27,500. Infant clothing and accessory line manufacturers Southern Swaddle was awarded $26,000. The manufacturer of Alchemy, an anti-tarnish and allergy protective spray for jewelry and metals, received $20,000. School protection services, nSide, received $15,000, and luxury shoelace manufacturer Luxe Brand received $7,000.
"It is exciting to see the progress that last year's winners have accomplished due to the funding they received from Alabama Launchpad," said Caitlin Holland, Shoals Chamber President. "More and more our area is becoming known as catalyst for innovative industry and I'm sure that startup competitions such as Shoals Alabama Launchpad is instrumental in making that so."
To apply for the competition or for information visit alabamalaunchpad.com/regionals/shoals.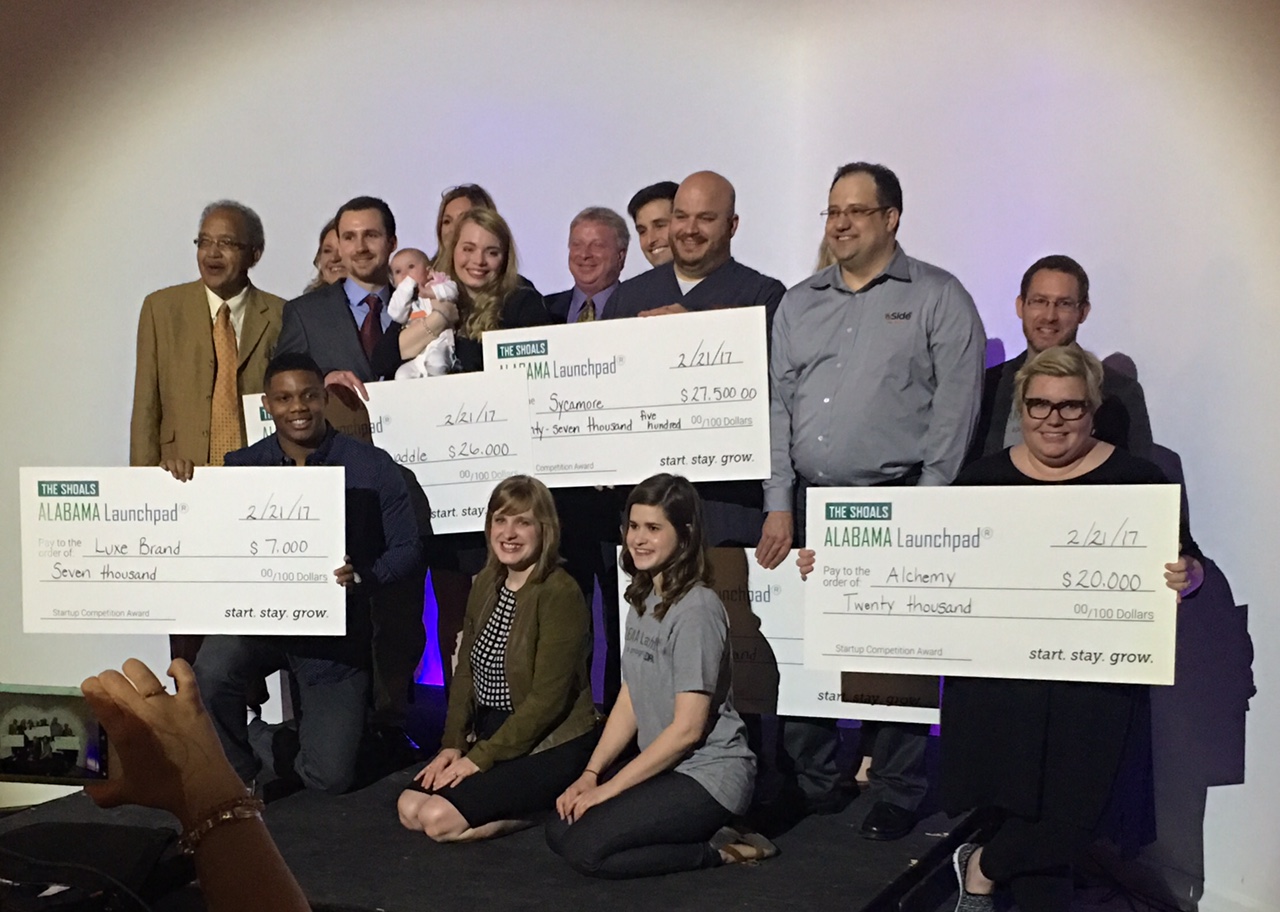 Attached picture: Last year's Shoals Alabama Launchpad Winners