UNA Alumnus Recipient of Presidential Early Career Award for Scientists and Engineers

Aug. 8, 2019
Michelle Eubanks, UNA, at meubanks@una.edu, 256-606-2033 or 256-765-4392
FLORENCE, AL – Dr. Martin Heimbeck, a 2006 graduate of the University of North Alabama, is one of two recipients from Alabama of a 2019 Presidential Early Career Award for Scientists and Engineers. He was nominated by the Department of Defense for his work in Huntsville at Redstone Arsenal for the CCDC Aviation and Missile Center.
The award, or the PECASE as it is known, was established in 1996 and is the highest honor bestowed by the United States Government to outstanding scientists and engineers who are beginning their independent research careers and who show exceptional promise for leadership in science and technology, according to the release from the White House.
Heimbeck received the award as part of a formal ceremony in July in Washington, D.C., and it's based on his research on terahertz radiation, the region between microwave and infrared waves.
"It has properties that can see through certain materials, like opaque plastics, nondestructively and provide information about them, to see if there is any damage to the interior structure," he said. "This technology can be applied to composite materials, which are of high strength but of low weight, used on helicopters, so that we can see any defects in the structure before they can lead to failure. It's analogous to X-rays we use to look at our bones."
Heimbeck attended UNA as an international student from Germany, and, even before matriculating to campus, he said he knew he wanted to be a physicist.
"In Germany, the last two years of high school are focused on what you think you want to do, and I had already taken those classes, so I knew, and I already specialized in a science and technology path," he said. "I've always been better in math than in the arts."
Heimbeck said he has fond memories of being on campus, particularly the proximity to downtown and having a smaller campus experience while also getting a great education.
"I made some very good friends on campus. We played a sort of unofficial Frisbee golf course that ran through campus. My girlfriend who is now my wife, Amber, was also a Physics student there," he said. "And I had a great professor, Dr. Brian Thompson, who was a mentor to me."
Dr. Thompson is the chair of the Department of Physics and Earth Science, and he said he remembers Heimbeck well for all of his accomplishments and his contributions to the department.
"He was a role model as president of the society of physics students, organizing and winning a society grant for an outreach project with 4th-grade students," Thompson said. "But I most enjoyed working with Martin over the two semesters of his directed research project in experimental optics. He showed attention to detail through repetitious measurements, dedication to work through failures, and the intuition to try new ideas."
These are skills Heimbeck uses today in his work at Redstone Arsenal.
"Although I perform my research with the expectation that the results lead to new discoveries, which may develop into new methods and technologies for the Army, I have to accept that the research sometimes dead-ends," he said. ", but it's important to fund this kind of work and take the risks, because we're better to have failed and go in a different direction than to not try and never know."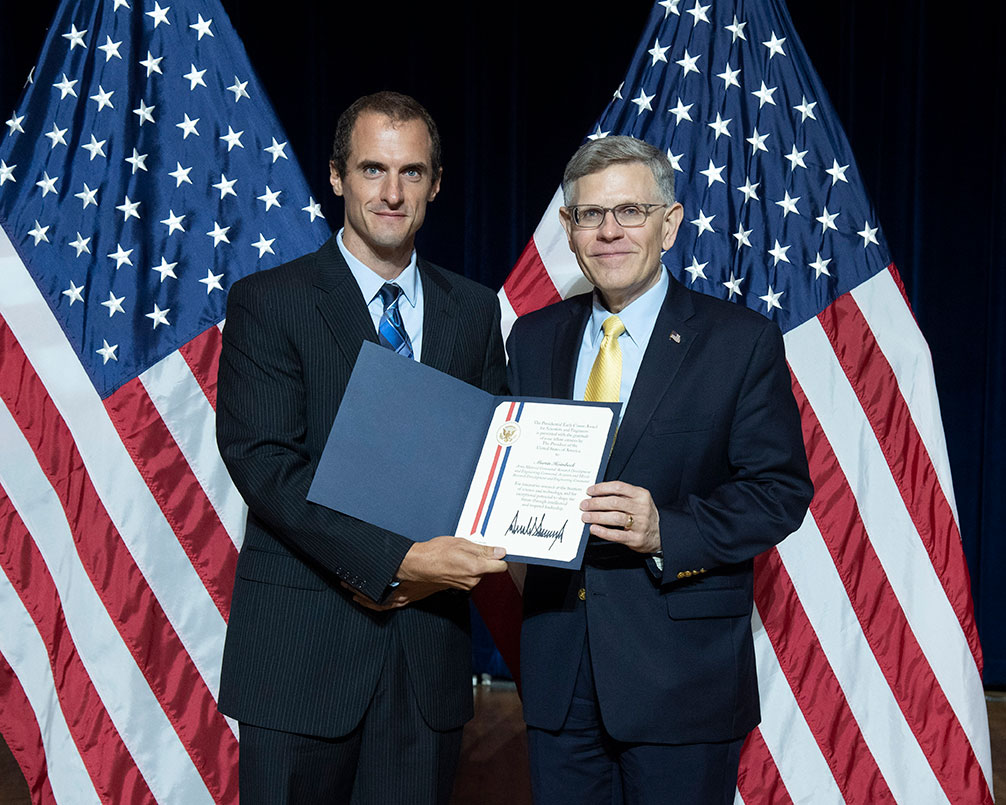 About The University of North Alabama
The University of North Alabama is an accredited, comprehensive regional state university offering undergraduate and graduate degree programs through the colleges of Arts and Sciences, Business, Education and Human Sciences, and the Anderson College of Nursing and Health Professions. Occupying a 130-acre campus in a residential section of Florence, Alabama, UNA is located within a four-city area that also includes Muscle Shoals, Sheffield, and Tuscumbia. UNA Athletics, a renowned collegiate athletics program with seven (7) Division II National Championships, is now a proud member of the NCAA Division I's ASUN Big South Conference. The University of North Alabama is an equal opportunity institution and does not discriminate in the admission policy on the basis of race, color, sex, religion, disability, age, or national origin. For more: www.una.edu and www.una.edu/unaworks/
About the Presidential Early Career Award for Scientists and Engineers
Established in 1996, the Presidential Early Career Award for Scientists and Engineers, or PECASE, acknowledges the contributions scientists and engineers have made to the advancement of science, technology, engineering, and mathematics (STEM) education and to community service as demonstrated through scientific leadership, public education, and community outreach. The White House Office of Science and Technology Policy coordinates the PECASE with participating departments and agencies.