UNA Recipient of Workforce Development Demonstration Grant Monies

Oct. 8, 2019
Michelle Eubanks, UNA, at meubanks@una.edu, 256-606-2033 or 256-765-4392
FLORENCE, AL – The U.S. Department of Labor's Employment and Training Administration has awarded $29,175,000 in demonstration grant funds to expand the impact of workforce development efforts in the Appalachian and Delta regions through the Workforce Opportunity for Rural Communities (WORC) grant initiative.
The University of North Alabama received $1,098,599 as a part of this grant allocation in order to serve workforce development initiatives in Colbert, Franklin, Lauderdale, Lawrence, Limestone, Marion, and Winston counties.
These grant funds, awarded in collaboration with the Appalachian Regional Commission and Delta Regional Authority, focus on rural areas hard hit by economic transition that are recovering slowly. Grantees have designed projects to address the specific skill needs of both businesses and works in their grant service area, located in either the Appalachian region or the Lower Mississippi Delta region, as defined in 40 U.S. C. 14102(a)(1) and in 7 U.S.C. 2009aa(2), respectively.
Sen. Doug Jones, D-AL., was on campus Monday to tour portion of UNA, stopping in two academic areas to meet with professors and learn more about programs that could be put to use as part of the grant.
"Workforce development is one of the most pressing issues facing our state as our economy evolves," said Sen. Jones. "Through this grant, UNA will be able to build on its outstanding reputation as a workforce leader and expand the impact of its programs. This funding will be critical to prepare students for today's in-demand jobs and attract new employers to Alabama."
Melissa Medlin served as the Principal Investigator for the grant. She also serves and the Director of the UNA Career Center.
"The WORC grant is a great opportunity for the university to assist individuals who may have been considering returning to school but, for a variety of reasons, haven't done so," she said. "This program will enable us in the Career Center to work with individuals from the very beginning of their re-entry to school to develop skills and experiences that will enable them to be successfully employed upon completion of their degree. It is so much more than the program participants earning their degree; this program provides support both financially and with a variety of services to ensure successful completion – not just degree completion but greater employment opportunities based on their updated skillset."
Hadley Skalnik, an admissions counselor at UNA, served as a researcher for this grant, and she said the experience has been rewarding, particularly as it relates to assisting students with costs outside of tuition.
"For the data collection, we used a quantitative survey to find out why students who reject the 15 percent discount couldn't return to school," she said. "What we learned is that there were other costs, such as child care, transportation, and other charges that simply weren't a part of their cost equation. That research was used as proof that these students could benefit career-wise from a return to higher education. They just needed additional financial assistance."
WORC grant applicants could apply for funding amounts between $150,000 and $2,000,000 for developing local and regional workforce development solutions aligned with existing economic development strategies. The grants also provide enhanced training and support activities to dislocated workers, including homemakers; new entrants to the workforce; and incumbent workers. Individuals affected by substance abuse disorder may also receive services through this grant. Collectively, these grant activities promote new, sustainable job opportunities and long-term economic vitality.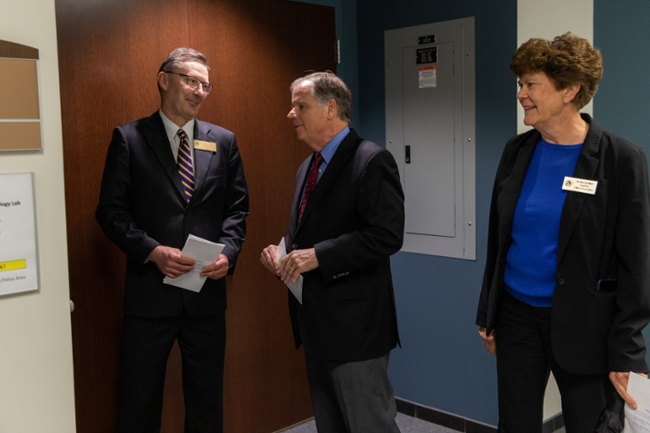 About The University of North Alabama
The University of North Alabama is an accredited, comprehensive regional state university offering undergraduate and graduate degree programs through the colleges of Arts and Sciences, Business, Education and Human Sciences, and the Anderson College of Nursing and Health Professions. Occupying a 130-acre campus in a residential section of Florence, Alabama, UNA is located within a four-city area that also includes Muscle Shoals, Sheffield, and Tuscumbia. UNA Athletics, a renowned collegiate athletics program with seven (7) Division II National Championships, is now a proud member of the NCAA Division I's ASUN Big South Conference. The University of North Alabama is an equal opportunity institution and does not discriminate in the admission policy on the basis of race, color, sex, religion, disability, age, or national origin. For more: www.una.edu and www.una.edu/unaworks