ROTC Cadets, UNA Leaders React With Joy, Relief, Motivation As Army Decides to Keep Program Open

Nov. 7, 2013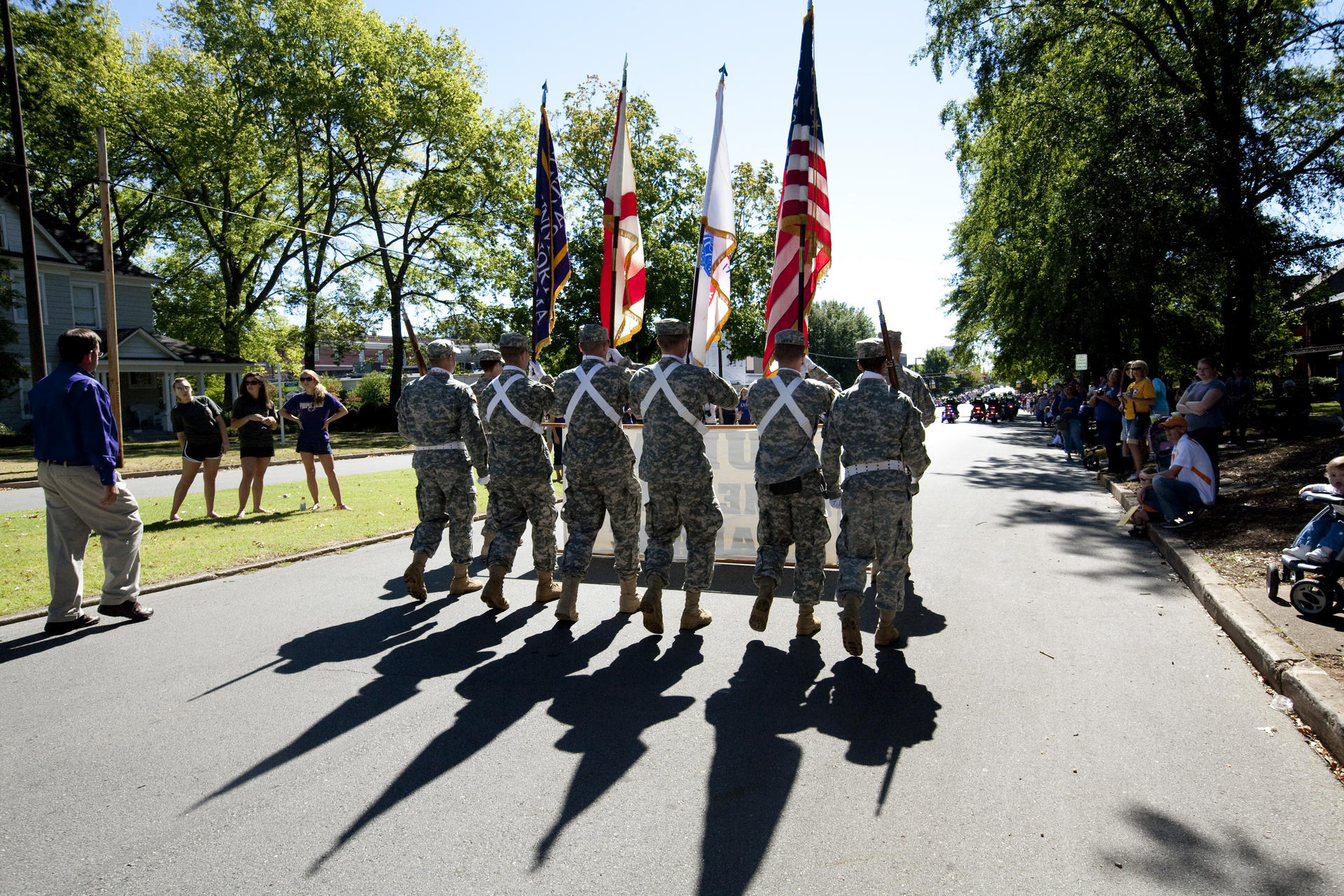 By Terry Pace, Communications and Marketing
FLORENCE, Ala. – The mood in Wesleyan Hall was jubilant and upbeat Thursday as cadets in the Lion Battalion – the University of North Alabama's ROTC (Reserve Officers Training Corps) program – responded to welcome news that the U.S. Army was temporarily reversing its decision to close the battalion and relocate its cadets.
The university received notification late Wednesday that the U.S. Army Cadet Command (USACC) was placing UNA and 12 other ROTC programs on a two-year probationary status instead of following through on an earlier decision to close 13 of its 263 ROTC programs across the country at the end of the 2014-15 school year.
"Late Wednesday afternoon my phone was busy receiving notifications from our congressional leadership that the ROTC program at UNA would be removed from immediate consideration for closure and be given a probationary time to meet the Army's commissioning target of 15 officers per year," UNA President Dr. William G. Cale explained Thursday morning.
"This is great news for the program, the university and our community," Cale continued. "I want to especially thank Sens. Jeff Sessions and Richard Shelby and Reps. Mo Brooks and Robert Aderholt for their strong support and advocacy to keep our program in place. We have a steep hill to climb, but it is an opportunity for us to further demonstrate our commitment to success."
The original Oct. 2 announcement to close the Lion Battalion was described by U.S. Army Cadet Command as "an effort to restructure and realign programs" using fewer resources.
"When the news hit that we were going to be closed, I was pretty devastated," recalled MS1 Cadet Dayton Tenney, a freshman from Harvest. "We all started looking at transfer options, but nothing appealed to us as much as staying here and being part of the program we all love. Now that we know we won't have to transfer, everybody in the program is so excited and pumped up over this positive news. We're all so thrilled and relieved that we can stay here and continue our legacy and tradition here in the Lion Battalion at UNA."
A statement issued by the Army on the reversal of the earlier decision explained that the probationary program "will focus on a collaborative effort between the school and the unit. A description of expectations between the SROTC unit and the school will be documented for each school in the probationary program. Regular updates on the unit's progress will be provided to the respective school leadership in a formal report." In the meantime, the statement noted the Army "will continue to progress toward restructuring placement" of its ROTC programs.
"The cadets were ecstatic when I told them the news," explained Lt. Col. Mike Snyder, chair of the UNA Department of Military Science and commander of the ROTC Lion Battalion at UNA. "Together we can prove why the Army should not close this historic program, but we must meet the numbers the Army needs. I am absolutely committed to helping us achieve whatever criteria the Army will place on us in this probationary status. Together we can achieve it."
ROTC has been a vital part of UNA's academic program since 1948, when the university established the first Corp of Cadets to produce officers for the U.S. Army.
"I'm incredibly excited that we'll be able to stay at UNA and won't have to transfer," says MS2 Cadet Graem Cook, a sophomore from Huntsville. "It appears that a lot of powerful and persuasive people were in our corner fighting for us, and we're happy that those efforts have resulted in the best possible scenario. This puts me back on track to do what I want to do – remain at UNA and commission as a signal officer in the U.S. Army."
In its 65-year history, alumni of UNA's ROTC program have been engaged in every military conflict from World War II to recent operations in Iraq and Afghanistan.
"The news that the Army was ending the Lion Battalion hurt quite a bit," added MS1 Cadet Justin Copen, a freshman from Toney. "That was something I didn't think would ever happen to such a distinguished program, so it was such a sad day. But I decided to just keep my head up, keep myself motivated and transfer to another program – maybe Mississippi State or Auburn – and then work hard, keep my grades up and show them how amazing our Lion Battalion really was. Now that I know I'll be able to stay here and earn my commission, it's a big sigh of relief and a tremendous lift off my shoulders. It's an amazing feeling – there's just no other way to say it."
The reprieve proved to be particularly positive news for Cadet MS2/3 Alex Waltenbaugh, a sophomore who moved to Alabama from Colorado Springs, Colorado, to attend school at UNA.
"I wanted to get out of Colorado and do my own thing, and I love Alabama, so I moved down here and became a part of the Lion Battalion," Waltenbaugh observed. "When the announcement was made last month, I thought they were taking all of that away from me – the friends I had made and the program I have grown to love. Morale was pretty low after that, but now that we've heard the latest news that we're not going to be closed, morale has shot through the roof again. We're so motivated now, and so determined to be the very best program we can be and do whatever it takes to keep it alive and growing."