Lauderdale County Domestic Violence Unit Unveils New Car At UNA

May. 30, 2014
By Bryan Rachal, Public Affairs and Media Relations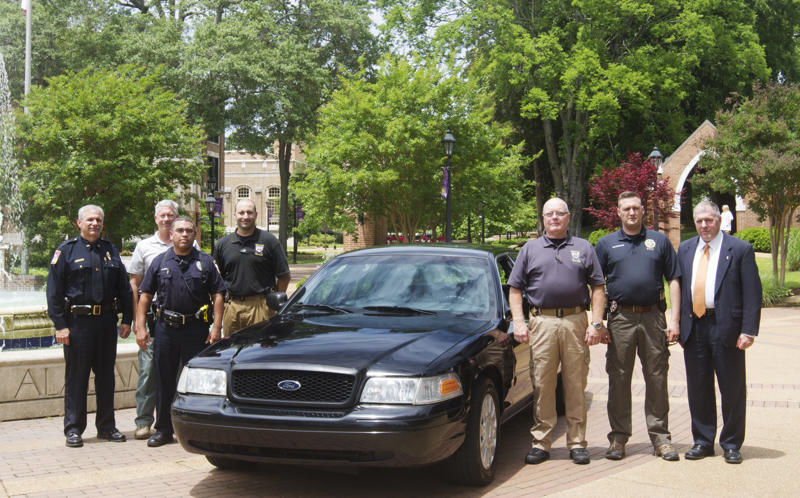 FLORENCE, Ala. – Officials with the Lauderdale County Domestic Violence Unit were on the University of North Alabama campus this afternoon to unveil their new patrol car. The new car is the latest piece of equipment the unit will use in the fight against domestic violence in northwest Alabama.
The Lauderdale County Domestic Violence unit is relatively new to the area; it was created in 2010 through the collaboration of Safeplace, the Lauderdale District Attorney's Office, the Lauderdale Sheriff's Department, the Florence Municipal Court, the Lauderdale District Court and the Florence Police Department. The LCDV Unit was created to help with the goals of improving domestic violence victim safety, reducing the escalation of domestic violence offenses, educating victims regarding safety and community resources, reducing offender recidivism and increasing offender accountability.
Officers involved with the unit focus on misdemeanor domestic violence cases; they then work to build those cases so they can allow for victimless prosecution. In addition, the unit also focuses on the enforcement of protection orders and increasing victim safety by linking them to services provided by Safeplace. The unit started with one Florence police officer under contract with the Lauderdale County DA's office; the unit boasts six investigators, one administrative assistant and one assistant district attorney.
Due to the growth of the unit, there was a need for additional vehicles. Alabama State Representative Johnny Mack Morrow is a big supporter of the program and took it upon himself to find the unit a vehicle they could use. Morrow called on Mac Gipson, administrator for the Alabama Alcoholic Beverage Control Board and William Thigpen, senior assistant administrator with the Alabama ABC, to see if they might have a car that could be purchased inexpensively or donated to the cause.
"I knew they were working with the ABC and that they had a lot of old Crown Victorias that had 60,000 or 70,000 miles on them that were over the hill, so I talked to them about donating one of those cars to Safeplace, and they said yeah we'll do that," Morrow said.
He went on to say that he's always been a supporter of Safeplace for one simple reason, "If you can't feel safe at home when you go home, there's no hope. Safeplace is that hope if you don't feel safe at home."
Morrow, Gipson and Thigpen all served together at one point in the state legislature, so when Morrow needed a favor, he didn't hesitate to contact Gipson, who was quick to lend a hand.
"We got a lot of cars and what I dislike doing is taking them over to what we call surplus and then they auction them off. I'd rather give them to an agency that's hurting." Gipson said he knew how desperate the need was for the car and he was happy to be able to provide it.
The University of North Alabama was chosen as the unveiling location because UNA is the newest partner to the LCDV Unit. The addition of UNA will expand the reach of the unit to include all students at the University. In addition, UNA Police Officer Jose Torres will work as an investigator for the unit in a part-time capacity; he'll also have access to the new vehicle.
UNA president William Cale was on-hand for the unveiling and noted that the partnership is good for the university and the community as a whole. "We're very concerned about student safety on campus and this is one more way that UNA can protect our students and give them a resource should anything untoward happen to anyone; so we're pleased to be networked in to this group dedicated to preventing domestic violence," said Cale.
Safeplace was commissioned to serve the counties of Colbert, Franklin, Lauderdale, Lawrence, Marion and Winston. Programs include not only shelter and counseling for families homeless due to domestic violence, but also outreach programs such as court advocacy services, prevention education programs and batterers intervention programs. Safeplace also has a transitional housing program to serve victims in our most rural areas. A 24-hour help line is available at 256-767-6210.
Pictures of the event can be found here.