Don't Worry About Leo and Una, They Have Fur Coats!

Jan. 16, 2015
Bryan Rachal, University Communications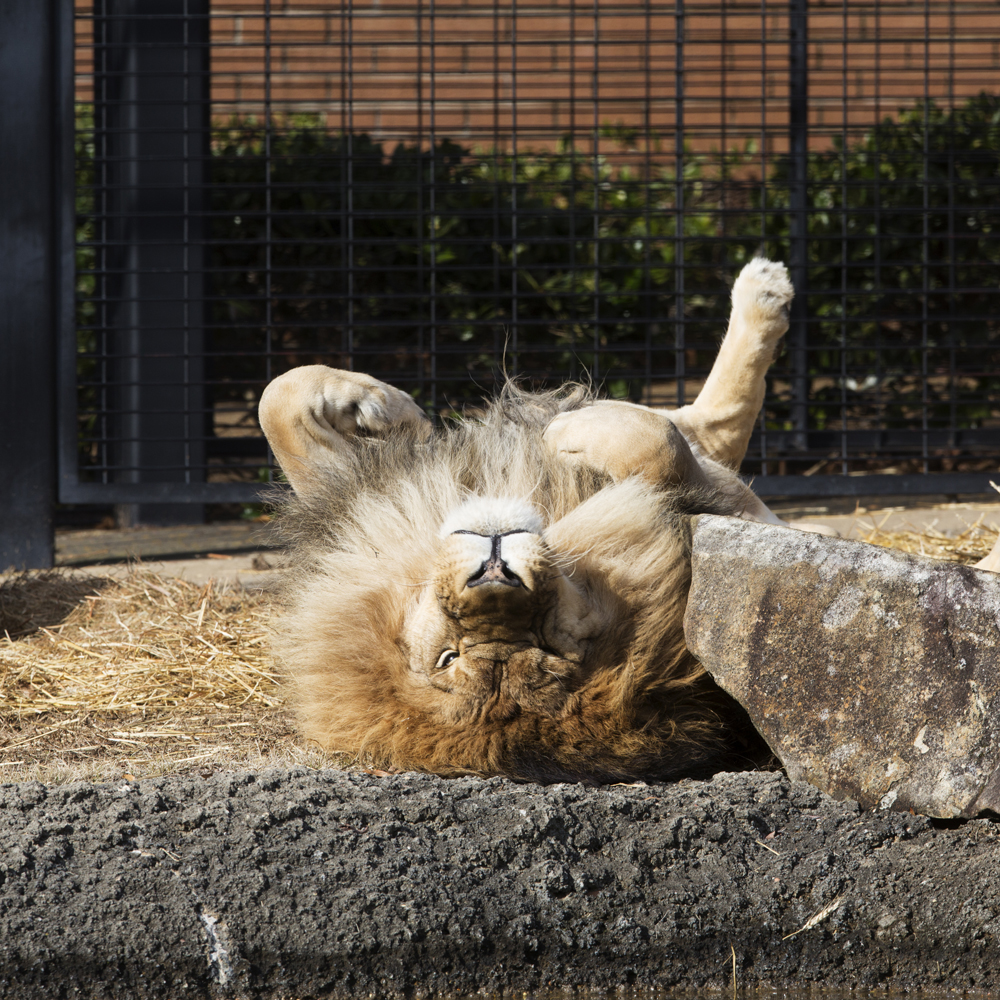 FLORENCE, Ala. – Often times when the weather is as cold as it has been lately, people are concerned about the University of North Alabama's most prominent campus residents: Leo and Una. Of course the question is always, "How can the lions be outside in this cold, after all they're from Africa?" To which Anne Howard, head lion volunteer, responds, "They're not from Africa, they're from New Hampshire." And she's not lying! According to Howard, Leo and Una are at least the third generation of lions born in New Hampshire. They were brought to UNA in 2002 and introduced to their habitat in 2003. This year marks the 12th winter the twins have spent on campus.
Howard said that much like a person, the lions have adapted to their surroundings. While they may not truly enjoy the cold they do like to get out so they don't suffer from cabin fever.
"In their night house it's always 72 degrees. If they're outside, their door is open and they can come and go as they please. So they'll go inside in the winter if they get cold or in the summer if they get hot, or maybe they just want some peace and quiet," she said.
Howard also said that Leo and Una are quite different when it comes to the cold. Una enjoys the cold and hates the heat and Leo is the opposite, loving the heat and hating the cold.
Many have heard the story about Leo swimming in the pond when it was 12 degrees one February day in 2004. Howard said that the story is in fact true. "When he got out of that pond he was so cold; now every time he looks at it he remembers!"
Howard said that like most animals, Leo's and Una's fur gets thicker in the winter months and it actually gets a darker tint as well. They also get a heartier diet, in the winter months. Leo receives 11 ½ pounds of raw meat daily, while Una receives 7 ½ pounds. In the summer months it's 7 ½ for him and 4 ½ for her.
And much like domesticated house cats, you'll often see these big cats lying in the sun soaking up the rays. Fur coat or not, everyone likes a place in the sun!
Photos of Leo and Una can be found here: http://www.unalionsden.com/archive/gallery.php?album_id=1086&photo_id=15149