Tutorial Support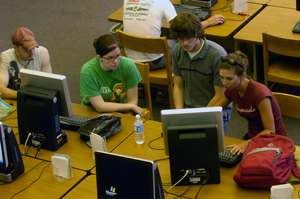 As an undergraduate student at UNA, University Advising Services offers you access to free tutoring in mostly 100/200 level classes. Our goal is to help you achieve the academic success that you want! Tutors can also assist you with a variety of study and learning strategies.  If you would like to schedule a tutoring session, you can call the University Success Center at 256.765.4722.  Typical tutoring sessions are 30 minutes and students are encouraged to bring lecture notes and all other materials related to the course.
Tutoring for Spring 2017 tutoring will begin February 1.
Please go here to make an appointment tutortrac.una.edu.  ALL Appointments must be made 24hrs in advance.
Currently, we offer tutoring in the following areas:
Accounting      Biology      Chemistry      History      Economics     QM         Psychology     Computer Science

AC 291             BI 101        CH 101           HI 101         EC 251           QM 291    PY 201            CS 155
AC 292             BI 111        CH 111           HI 102         EC 252           QM 292    PY 302            CS 255
                       BI 112        CH 112           HI 201                                             PY 321             
                       BI 241        CH 311           HI 202                                             PY 375             
                       BI 312        CH 441                                                                                    
If you would like to learn more about tutoring in any Mathematics course, please visit the Mathematics Learning Center web page.