Strategies for Academic Success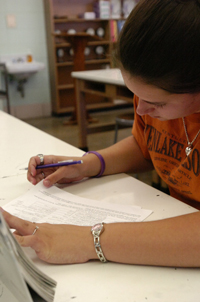 "I rarely studied in high school and made all A's and B's. Now that I am moving on to college, I am really worried. What will it take to make decent grades? Keep my head in a book all of the time? No! I want college to be fun!"
"I have been at UNA for 2 semesters and I just don't understand why my grades are not better. I don't miss class that often and I study the night before a test. Help me figure this out. What does it take to be academically successful?"
Many students find that they can identify with one of the above student scenarios. Some students enter university study worrying whether or not they will be able to do what it takes to make good grades. Others realize after a semester or two that what they are doing in their studies is not enough to meet the academic standards set by the university or their own personal standards. Whatever the situation, the following information and web links are made available to students who want to uncover new strategies for academic success.
Study Skill Sites
The following are links to websites containing general study skill information as well as information for studying particular subject areas.
--offers a variety of online pamphlets containing information on time management, study skills, etc., including public speaking anxiety, relaxation techniques, and assertive communication.
--contains on-site links to various study skills self-help topics (ex.--time-scheduling suggestions, concentration, control of the study environment, and proofreading).
--contains self-assessments and information to help students develop healthy study strategies.
Reading and Writing Skills
--an excellent UNA guide to help the student avoid plagiarism.
--provides a practical guide to help students know when plagiarism has or has not occurred.
--lists on-site links containing strategies to avoid plagiarizing; gives examples of acceptable and unacceptable paraphrasing.


Math Skills
--helps students gain general understanding of various math problems and devise problem-solving methods.
Career Planning and Exploration
--lists descriptions for approximately 3,000 occupational areas providing information in the following areas for each occupation: nature of the work, earnings, training and education needed, skills required, working conditions, advancement opportunities, projected growth, related jobs, employment, and sources of additional information.
--offers useful information and advice on careers, graduate/professional schools.
--provides information about what one can do after they graduate with a particular degree.