Violations
Parking and Permit Violations
This section will inform you of specific rules and laws regarding parking on campus and regarding your permit and other general citable offenses.
The Transportation Services Department may cancel the registration of any vehicle which habitually violates rules, is judged unsafe or which makes excessive noise.
Parking Violations:
Mechanical Failure - In the event of mechanical failure, the owner or driver will be responsible for removal of the vehicle as soon as possible. In any case, the University Police Department should be notified of its location by calling 256-765-4357.
Handicap Parking - Persons with valid handicap placards or tags properly displayed may park in any designated handicap space on campus. They may also park in areas zoned for their particular classification; resident (red zone), employee (green zone) or commuter (white zone). An appropriate University Transportation Services parking hangtag is required in addition to the handicap placard or tag.
Blocking Fire Hydrant or Parked in Fire Lane – Any vehicle parking in a marked Fire Lane or parked within 15 feet of access to a Fire Hydrant will be cited and/or towed at the owner's expense.
Loading/Unloading - Handicap parking spaces and Fire Lanes should never be used for loading or unloading belongings on campus (unless the situation is being monitored or has been approved by Emergency personnel). Please use marked Loading Zone areas, 15 minute reserved spaces or park in your appropriate designated parking spaces to complete these tasks. It is recommended that you (1) have your items ready to load/unload in a timely manner, (2) when possible, have someone with you to monitor your vehicle in case it needs to be moved, and (3) contact the Transportation Services department if you are unsure of appropriate parking or have extenuating loading/unloading circumstances.
Unauthorized Color Zone – Any vehicle that is parking in an unauthorized area or color zone other that where their permit and/or registration allows them to park. See PARKING REGULATIONS
Undesignated Parking Area - Any person parking in non-designated areas where there are designated parking spaces lined off with paint of any color. Alabama State Law prohibits parking within 20 ft. of any crosswalk or within 30 ft. of any intersection regardless if curb is designated with or without yellow paint.
Parking on Yellow Curb/Yellow Painted Areas - Any person parking on a yellow curb, or any area painted with yellow paint, or in a posted LOADING ZONE will be cited for Parking on Yellow Curb and/or towed at the owner's expense.
Reserved Parking – Any vehicle posted in a "Reserved" space will be cited if they are not authorized to park in the reserved space or area. Reserved parking spaces are indefinitely reserved 24 hours a day, 365 days per year.
Unauthorized Vehicles - CAMPERS, TRAILERS AND BOAT TRAILERS ARE PROHIBITED FROM PARKING ON CAMPUS. Space is available on Stewart Avenue (behind the baseball stadium) to accommodate campers and trailers.
Double Parking – Any vehicle parked over or on a painted designated parking space line that disturbs the flow or sight of traffic or prevents other vehicles from parking in the adjacent space or to be able to easily enter or exit their vehicle will be cited. If you find a vacant space next to a double-parked vehicle whose negligence will force you to be double-parked, do not use the space or you could also be cited.
Park With the Flow of Traffic - Anywhere you park on campus, and within the City limits of Florence, you are required to park "WITH" the flow of traffic as shown in the illustration below. The passenger side of the vehicle must be against the curb. Anyone parked against the flow of traffic is subject to a parking fine, not only from the University Transportation Services Department, but from the City of Florence as well.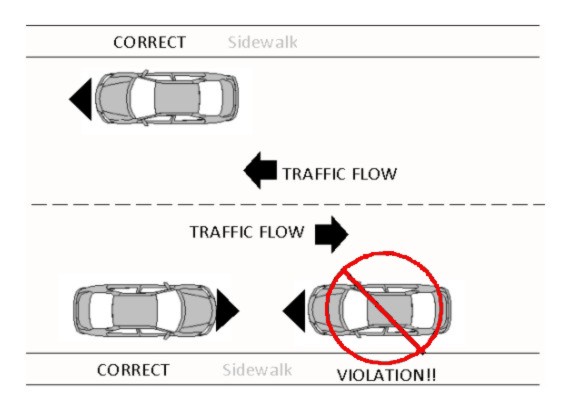 Traffic Boot Eligibility - Any vehicle accumulating four (4) or more citations will be booted at the owner's expense for each successive citation until the vehicle becomes properly registered to park on campus and/or until all fines and fees are paid in full. Any person parking a vehicle on campus that has had the registration/permit revoked will be towed or booted at the owner's expense.
Permit Violations:

Persons to whom the parking permit is registered will be held responsible for all citations received by the vehicle for violation of parking regulations
No Permit Displayed – Your registered valid permit must be displayed at all times it is parked on campus. Any vehicle without a valid permit will be cited.
Improper Permit Display – University permits must be displayed facing the front of the vehicle with the numbers facing out and the printed permit information must be visible from the front of the vehicle and not obstructed by any other items that are on the rearview mirror. Any permits found to be improperly display in any manner will be cited.
Other University Policies regarding Permits:
A. If an employee has children or relatives in school at UNA who drive a vehicle displaying an employee permit, the student must obtain and display a commuter permit and park in their designated parking area. Students who park vehicles in GREEN zones will be cited.

B. Any of the following violations will result in referral to the Office of Student Conduct for disciplinary action if a student is involved and referral to a Supervisor if an employee is involved.
Counterfeiting, altering or defacing of a permit.
Misuse of permit, theft of a permit or transferring permit from one person's vehicle to another person's vehicle for which no permit was issued, (violation of policy A. listed above)
Giving false information in an application for a permit.
Continual disregard for Handicap or Fire Lane/Hydrant violations.
Failure to pay outstanding balances with the department of Transportation Services.
The Transportation Services Department is authorized to revoke the parking privileges of any person engaging in the above activities.
Moving Violations: Drivers of vehicles who commit moving violations of the Alabama Uniform Rules of the Road shall be issued Alabama Uniform Traffic Citations, which are adjudicated through the Lauderdale County District Court, 200 South Court Street, Florence AL 35630. The phone number is 256-760-5710.