President's Message
Dear Friends: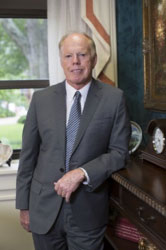 Welcome to the Office of the President's web page, and thank you for taking time to learn more about the University of North Alabama.  UNA prides itself on 184 years of educational excellence.  For students who are looking  for the perfect college fit, investigate what UNA has to offer and how we can partner with you to achieve your individual aspirations and career goals.
At UNA we offer a wide range of academic programs.  The quality of these programs is affirmed by our numerous national accreditations and by the success of our graduates.  As the world has moved toward global awareness, UNA has become a leader in international programs.  Our diverse student body creates an exciting learning community for the entire campus.  We pride ourselves on our small classes and our commitment to student success. 
Beyond the classroom, UNA provides a comprehensive program of extracurricular opportunities, and northwest Alabama offers an unsurpassed quality of life.  Tour our website, and then come and visit.  Our mascots, Leo III and Una, are eager to meet you, along with the entire university community.  Roar Lions!
Sincerely,

John G. Thornell
Interim President