Meet the First Lady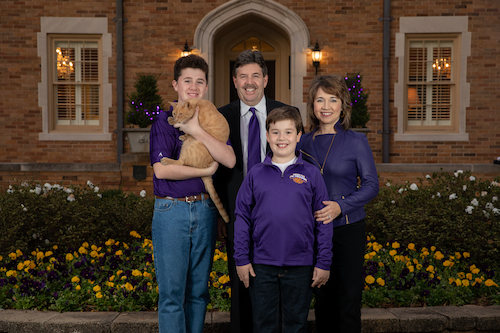 Dena Kitts is the wife of President Ken Kitts and First Lady of UNA. She earned a baccalaureate degree in English with minors in Spanish and history. She received post-graduate certification in career counseling. She is a member of Sigma Tau Delta, Who's Who of Professionals, and Leadership Florence (SC) class of 2001. Dena's professional career spanned nine years in Human Resources at the university level.
Since her arrival on campus in 2015, Dena has been an avid supporter of student success and an enthusiastic promoter of UNA. She has devoted her time to numerous organizations including the Shoals Symphony at UNA Board of Directors, Derby Day Planning Committee, Kilby Laboratory School Parent Advisory Board, and UNA Career Center's mock interviews which give experiential, one-on-one practice to students. For her work across campus and in the community, Dena has been named as an honoree for This is Alabama's 2023 Women Who Shape the State.
Dena's current passion is her Women of Influence initiative, which she founded and co-chairs. WOI is a dynamic group of individuals who seek to elevate and empower student success through philanthropic enterprise. 
To foster school spirit, Dena has participated in "First Pitch" ceremonies to open athletic events, judged Homecoming activities, and even returned to her drum major roots by directing UNA's award-winning Marching Pride of North Alabama band.
In her spare time, Dena enjoys writing, photography, and traveling. As proud as she is of her many university and civic duties, Dena's greatest and most important role is being mom to Colin and Corbin.