Kenneth D. Kitts, Ph.D.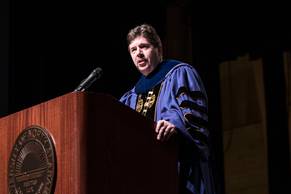 Dr. Ken Kitts became president of the University of North Alabama on March 30, 2015. Prior to joining UNA, Dr. Kitts served in various academic and administrative positions at both Francis Marion University in South Carolina and at the University of North Carolina at Pembroke.
A native of North Carolina, Dr. Kitts holds BA and MA degrees in political science from Appalachian State University and a Ph.D. in political science from the University of South Carolina. He also holds a post-graduate certificate from Harvard University's Institute for Educational Management. Dr. Kitts' academic interests include the American presidency, national security, and executive advisory systems. He is the author of an award-winning book on presidential commissions.  
As president of UNA, Dr. Kitts has focused his efforts on ensuring academic quality, enhancing the student experience, and promoting the University to external constituencies. He has presided over significant enrollment growth and the development of new academic programs and facilities. He works closely with the faculty and staff to ensure that growth aligns well with the University's identity, strategic priorities, and commitment to the Shoals region of Alabama. He is a fan of Lion Athletics and directed a collaborative process that helped the institution realize the long-term goal of transitioning from Division II to Division I in the NCAA classification system. A self-proclaimed professor at heart, Dr. Kitts still finds time to teach to underscore his personal commitment to students and his belief in engaged leadership.
Dr. Kitts and his wife, Dena, are the proud parents of sons Colin and Corbin. The family lives in the President's Home on the beautiful and historic UNA campus and are next-door neighbors to Leo III and UNA, the two African lions that serve as the university's mascots.