Degrees Offered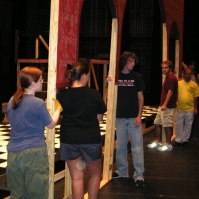 UNA theatre offers a wide range of courses beginning with Introduction to Theatre. Theatre majors receive instruction in our program's core theatre classes that are constructed to provide a strong base in all areas of theatrical studies. Students then complete more advanced theatre coursework in one of three concentrated areas of study, including acting, design, and directing/management. These courses provide students with the opportunity to expand their knowledge and further develop their creative skills for both traditional and nontraditional theatre venues.
UNA theatre students have two degree options to choose from. Students may earn a Bachelor of Arts (BA) degree or a Bachelor of Science (BS) degree. In addition to coursework for a major, the UNA Theatre Program also offers a minor for students in majoring in other fields.
Check sheet for Communication Arts: Theatre
Communication Arts Core Requirements
Theatre
These are the required classes for the Theatre emphasis: 
TH 110 Stage Makeup (1 hour)
TH 200 Voice and Diction (3 hours)
TH 220 Acting I (3 hours)
TH 250 Theatrical Design (3 hours)
TH 370 Directing (3 hours)
TH 430 History of Theatre I (3 hours)
TH 440 History of Theatre (3 hours)
Choose one from:
TH 320 Stage Movement (3 hours)
TH 330 Oral Interpretation (3 hours)
TH 400 Acting II (3 hours)
Choose one from:
TH 340 Scene Design (3 hours)
TH 350 Lighting Design (3 hours)
TH 360 Costume Design (3 hours)
Choose either:
TH 402 Dramatic Literature and Criticism I (3 hours)
TH 405 Dramatic Literature and Criticism II (3 hours)
Total: 28 hours

All students in this area will earn a degree in Communication Arts with Theatre as the student's primary area of study.
A minor is not required, but students are encouraged to select a minor to support their major course of study. Talk with you advisor or the department chair for more explanation.
Theatre Minor Requirements
Acting I (TH 220)
Theatrical Design (TH 250)
Directing I (TH 370)
Choose 3 Courses from:
Movement for the Stage (TH 320)
Scene Design (TH 340)
Lighting Design (TH 350)
Costume Design (TH 360)
Acting II (TH 400)
Dramatic Literature and Criticism I (TH 402)
Dramatic Literature and Criticism II (TH 405)
History of the Theatre I (TH 430)
History of the Theatre II (TH 440)
Arts Management (TH 460)
Directing II (TH 470)
Topics in Theatre (TH 480)