Balance Birth Center Takes Home Top Prize at Shoals Idea Audition

Oct. 5, 2018
FLORENCE, Ala. - The fifth annual Shoals Idea Audition was held Thursday, Oct. 4, at the University of North Alabama with five presenters leaving with prize money to fund their newly developed projects.
First place winners were Laura Bethea and Katie Terry of Balance Birth Center who walked away with a check for $5,000. Second place went to Ashley Morrow with Hellooo. Third place went to Dr. Chandra Bandugula of ZeaMed. A new award, The Marketing Award, was presented to Harrison Williams with New Me. Caitlin Holland from the Shoals Chamber of Commerce served as the master of ceremonies.
Approximately 30 contestants registered to present ideas before a panel of judges in the preliminary rounds of competition. Five finalists were chosen to present before an audience and the final judges Jan Ingle of the Shoals Chamber, Macke Mauldin of Bank Independent, Greg Carnes from the UNA College of Business, Jarrod Randoll from the Bobo Family Group, and Jackie Hendrix from PartyPros USA.
The Shoals Idea Audition is one of the start-up contests sponsored by the Shoals Shift movement, a portion of which is funded by a grant from the Appalachian Regional Commission. Innovation Sponsors were Bank Independent and the Joel Anderson Family Foundation. Event sponsors included the Shoals Chamber of Commerce, the University of North Alabama, the Bobo Family Group, Party Pros USA, Vizion Driven, the City of Florence, Progress Bank, Alabama Technology Network, CB&S Bank, Northwest-Shoals Community College, Regions Bank, Shoals Business Incubator, Spry Law Firm, and PolyPac.
-30-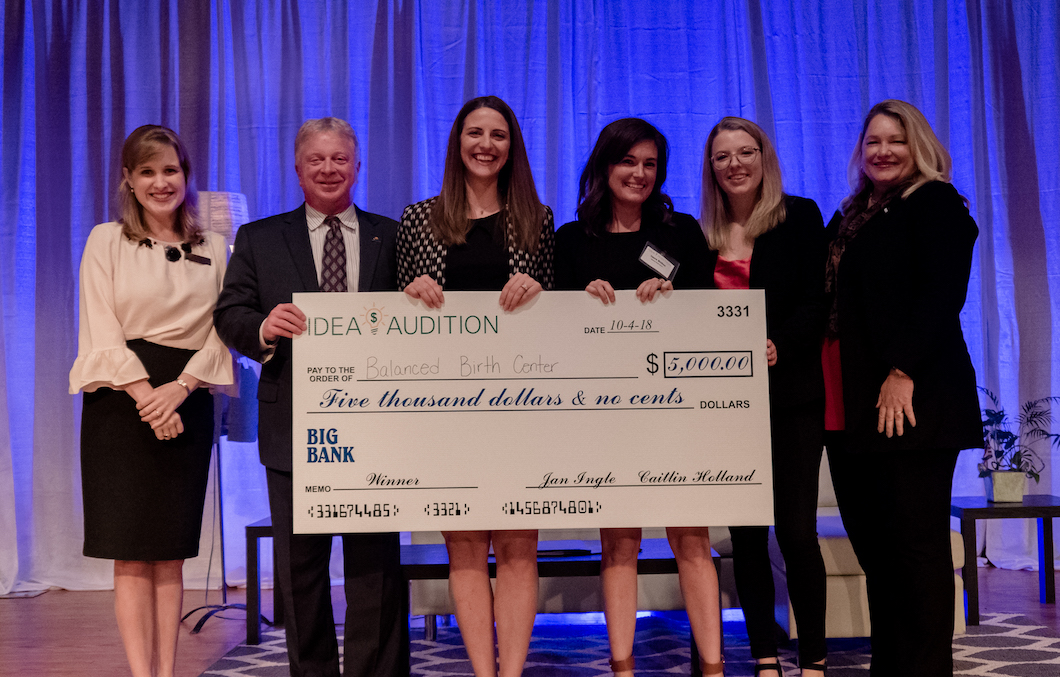 Attached picture left to right: Caitlin Holland from Shoals Chamber of Commerce, Greg Carnes from UNA, Katie Terry and Laura Bethea of Balance Birth Center, Kristen Anderson of the Joel Anderson Family Foundation, and Lynda Darby of Bank Independent.