UNA Takes 'Giant Leap Forward' With Groundbreaking for Science and Technology Building

May. 6, 2013
By Terry Pace, UNA Communications and Marketing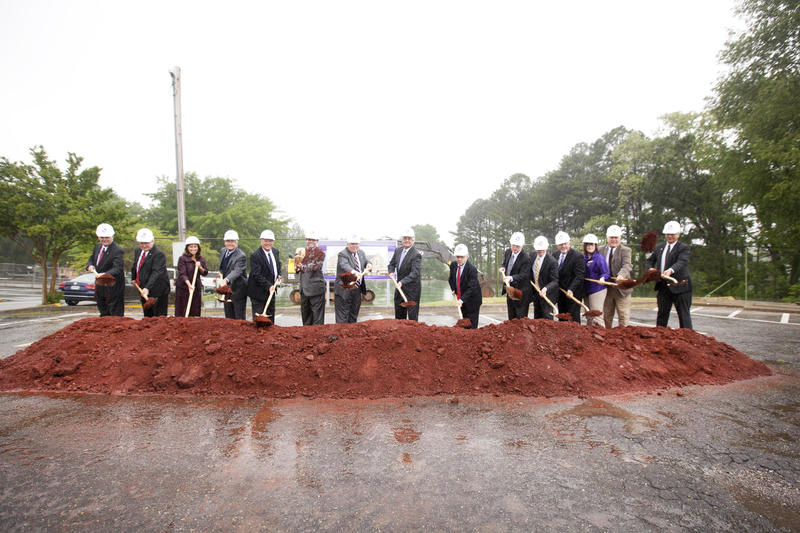 FLORENCE, Ala. – The University of North Alabama broke ground today on a long-envisioned, $39.7 million Science and Technology Building designed to carry the university's science-based academic programs into a competitive new arena.
President William G. Cale – who called the project "another giant leap forward" for the university – and other UNA officials were joined at the ceremony by state Sens. Roger Bedford and Tammy Irons, Reps. Lynn Greer, Greg Burdine, Johnny Mack Morrow and Mac Buttram, Florence Mayor Mickey Haddock, Florence City Council President Dick Jordan and Shoals Chamber of Commerce President Steve Holt.
"This is an affirmation that collectively we can accomplish great things, that we are committed to the future of this region, and most important of all, that we will always provide the best education possible for our students," Dr. Cale told more than 200 campus leaders and UNA supporters who gathered at the future home of the five-story, 160,000-square-foot facility.
"I don't know that a day has gone by over the last eight years that this project has not entered my mind," added Cale, who made the project a high priority when he was named president of UNA in 2005. "I can tell you that I have been hopeful, I have felt despair, I have experienced frustration and confusion and, from time to time, a bit of optimism. Today I think we all feel relief and happiness, in roughly equal measure."
The UNA Board of Trustees officially approved the project on April 3, accepting a low bid from the Birmingham-based construction company B.L. Harbert International. The new facility – to be built between Kilby Laboratory School and Flowers Hall, on the site of the old tennis courts on Pine Street – will provide a state-of-the-art home for the biology, chemistry and industrial hygiene and physics and earth science departments now located in the 51-year-old Floyd Science Building.
"A future department of engineering technology also will be housed in this new building," Cale explained. "Construction of the building will take about 600 days, so we can gather again in the late fall of 2014 to have a grand opening."
The building combines classrooms, offices, lecture halls, laboratories and a dining and reception area. The facility is designed to serve as a vital research center for UNA students and professors as well as researchers and scientists working in industries and institutions throughout the region.
"One of the primary benefits to our program will be the research space that is being provided to each faculty member," according to Dr. Paul Kittle, chair of UNA's biology department. "To me, that is one of the most exciting aspects of the new building – the fact that it provides greater opportunities for research. We are primarily a teaching institution, but we do expect research."
UNA has $31.7 million currently in place to cover the majority of the construction costs. The budget committee in the Alabama House of Representatives has recommended $500,000 for the project, but that measure has not been approved by the full Legislature. At its regular meeting Tuesday, the Florence City Council is expected to consider a proposal to allocate $3.2 million to the facility from the city's own budget for capital projects and improvements.
"This building is going to transform education here at UNA," Dr. Dan Hendricks, UNA's vice president for advancement, remarked at a luncheon following the groundbreaking. "It is also going to transform the lives of all the young people who pass through here."
The lunchtime program offered a general preview of an aggressive fund-raising campaign that will help complete and fully outfit the science and technology facility. Dr. John Thornell, UNA's vice president for academic affairs and provost, noted that all UNA students are required to take two natural science courses before they graduate. He added that a total of 8,124 students have taken science courses at UNA during the 2012-13 academic year.
"This building benefits science majors as well as non-science majors," Thornell concluded. "We already have strong science programs and quality faculty teaching in those programs, but no matter how good a teacher you are, you have to have laboratories and equipment to be successful. With this new building, we can meet that benchmark."
A gallery of high-resolution images from today's groundbreaking ceremony is available for media use on our UNA Photo Gallery: http://www.unalionsden.com/archive/album.php?album=SCIENCE%20AND%20TECHNOLOGY%20BUILDING&year=2013
A gallery of high-resolution images of architectural renderings of the Science and Technology Building is also available for media use on our Photo Gallery:
http://www.unalionsden.com/archive/album.php?album=Architectural%20Renderings&year=2013