Shoals Area Big Band Joins UNA Jazz Band for Valentine's Concert of Love Songs, Swing Standards Feb. 13

Feb. 2, 2014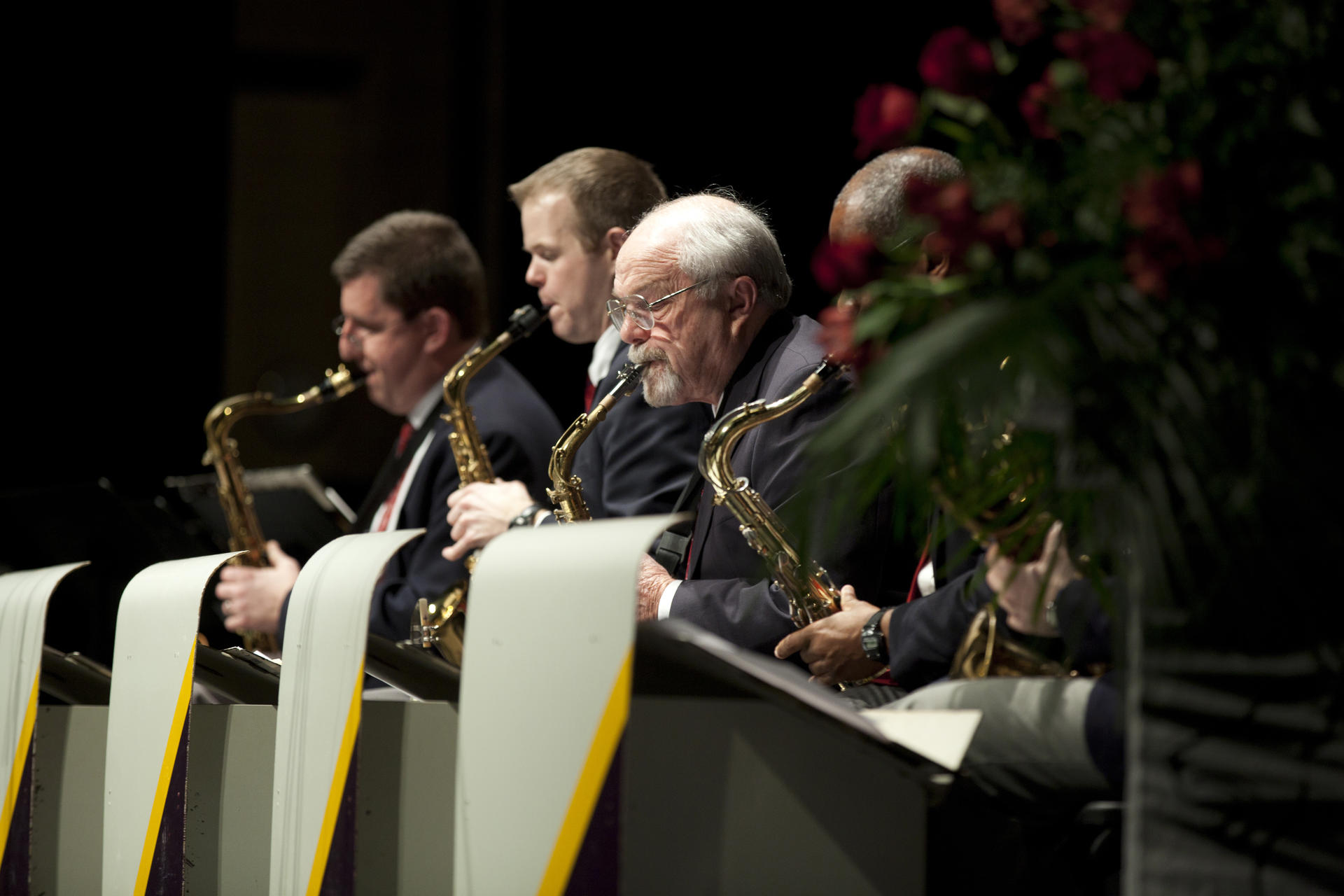 By Terry Pace, Communications and Marketing
FLORENCE, Ala. – The University of North Alabama Studio Jazz Band will celebrate the music of love and the romantic spirit of Valentine's Day with a special public performance at 7 p.m. Thursday, Feb. 13, at Norton Auditorium on the UNA campus.
The Shoals Area Big Band will join the UNA Ensemble as special guests for "Love and All That Jazz," an evening of love songs and popular swing-music standards. Founded by the late Dr. Lyman Mitchell in 1979, the Big Band includes UNA professors, former UNA band members, local business owners, studio musicians, music educators and several first-class musicians from outside the Shoals.
"The Shoals Area Big Band is a special group of musicians like none other," according to Dr. Lloyd Jones, an associate professor of music and UNA's director of bands. "The members enjoy coming together and entertaining audiences with the uniquely American art form – jazz, and more specifically, big-band swing."
Throughout its history, the Big Band has raised more than $80,000 in scholarship funds for the UNA band program. The group includes three original members: Dr. Jimmy Simpson (lead alto saxophone and clarinet), former chair of the UNA music department; Dr. Edd Jones (trumpet and arranger), former director of UNA's band program; and UNA graduate Edsel Holden (trumpet and vocals). Many other current members joined the Big Band soon after its formation, including Mitch Rigel (drums), Terry Ownby (lead trumpet), Rick Burks (saxophone) and Dr. Lloyd Jones (saxophone and current leader).
"Still other members have joined by filling in as substitutes during rehearsals," Lloyd Jones explained, "and as positions became available, they gained membership as regular performers. The more seasoned players have helped the younger players become strong performers through the years, and that tradition has lasted for 35 years."
Jones added that he knows of no other big band in the region with that history of consistent musical longevity.
"Dr. Lyman Mitchell really had a passion for big-band swing," he noted, "and his legacy is this outstanding organization. He really meant a lot to the members – and to UNA – and we are proud to have been associated with him."
A highlight of the concert promises to be Jones' arrangement of "The Story of Jazz," a musical history of the jazz form and its many genres, including New Orleans Dixieland, ragtime, Chicago Dixieland, boogie-woogie, swing, bebop, cool jazz, funk, fusion, Latin jazz and even third-stream Jazz.
" 'The Story of Jazz' is a real treat for the students and the audience alike," Jones explained. "We'll take a single melody, which is based on the blues, and perform it in various styles to demonstrate how jazz music has changed through the years. All the contrasting styles are still around today and have influenced virtually every form of popular contemporary music and even classical music. It is amazing to hear how the approach to jazz changed from region to region throughout the United States during the 20th century."
The concert program will also include a salute to swing master Benny Goodman, the music of Glenn Miller, Artie Shaw, Chuck Mangione, Gordon Goodwin, Harry James, Count Basie, Duke Ellington and more.
"We have a very talented group of student performers this year," Jones concluded. "Many will be featured as soloists during various portions of the concert. Additionally, our vocalist, Miss Kayla Flannagan of Athens, will be featured on several outstanding arrangements by Dave Roberson, including Billy Joel's 'Just the Way You Are.' "
Admission to the concert is $15 for general admission, $5 for students (must show I.D.) and free for military and children under the age of 10. Tickets can be purchased online at www.una.edu/music-theatre (service fee will apply), at Kennedy-Douglass Center for the Arts in downtown Florence, or at the door. For more information, call the UNA Department of Music and Theatre at 256-765-5122.
High-resolution photos of the Big Band and the UNA Jazz Band are available for media use at:
http://www.unalionsden.com/archive/album.php?album=Big%20Band%20Concert%202013&year=2013