UNA's New Commons Building Provides Academic Services, Retail Outlets, Gathering Place for Students and Shoals Community

Mar. 3, 2014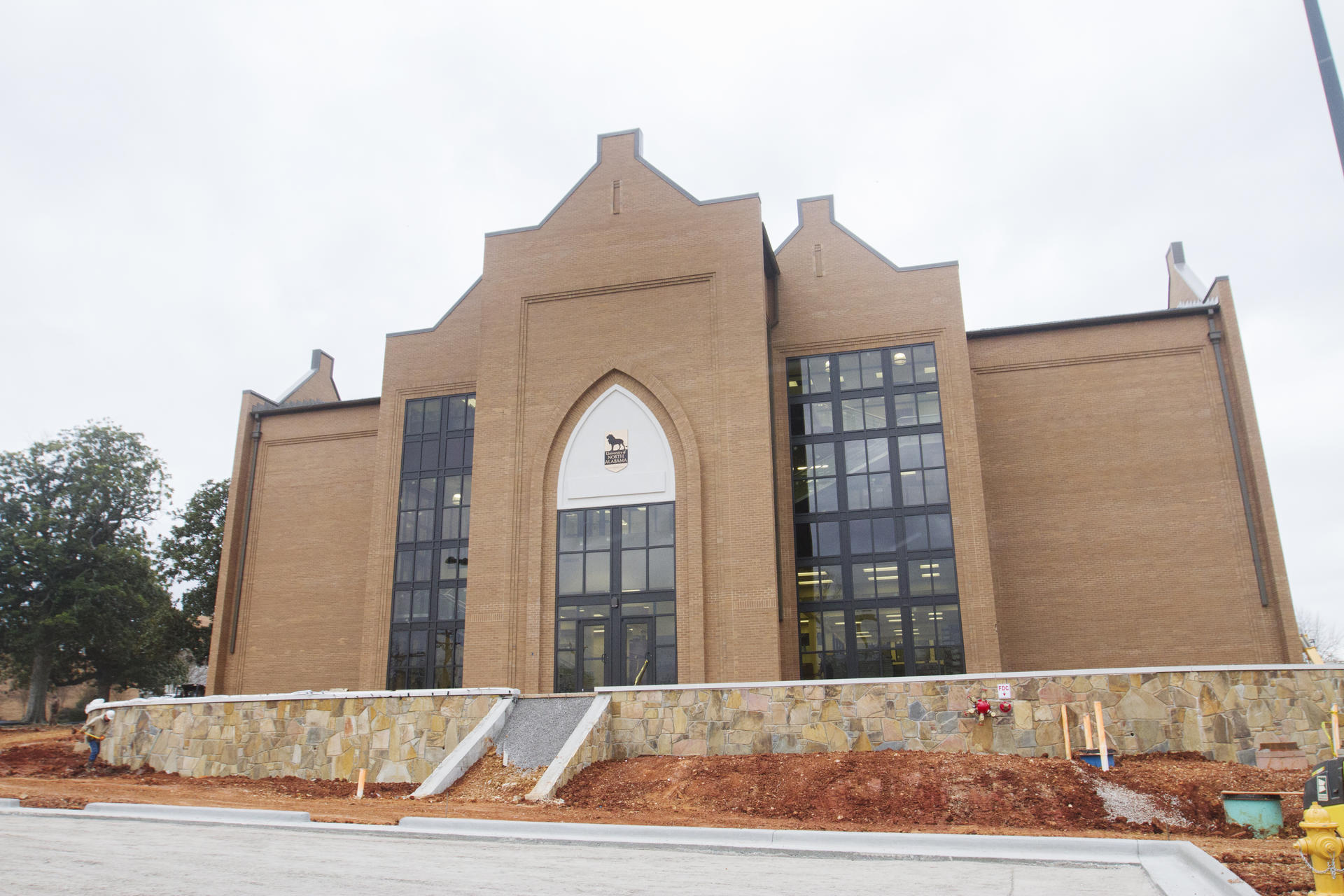 By Terry Pace, Communications and Marketing
FLORENCE, Ala. – Hundreds of students, administrators, faculty, staff and alumni – along with friends and supporters from across the Shoals – gathered to celebrate Monday's official opening of the new Commons building on the University of North Alabama campus.
University President Dr. William G. Cale – joined by members of the UNA Board of Trustees and elected officials from across the region – presided over the official dedication and ribbon-cutting ceremony for the spacious, state-of-the-art new facility situated between Rogers Hall and Keller Hall at the north end of Court Street. The $8-million complex encompasses the all-new University Success Center as well as Student Financial Services, the UNA branch of Listerhill Credit Union and retail outlets ranging from Starbucks, Chik-fil-A and Frostbite Frozen Treats to a vastly expanded Follett Campus Bookstore.
"This building will house many of the services that enhance our academic programs here at UNA," Cale told the enthusiastic, standing-room-only crowd, "but it will also serve as a central gathering place for our students and attract even more friends from the local community to visit our campus. In so many ways, this will make us a stronger and better university."
The Commons building was designed by Hugo Dante of Create Architects in Tuscumbia, built by the Huntsville-based Consolidated Construction company and funded in part through partnerships with Listerhill, Sodexo Campus Services and the Follett Corporation. Winter weather conditions forced a few unexpected delays in the original construction schedule, but all agreed that Monday's long-anticipated opening of the Commons was well worth the wait.
"It's a real asset for the citizens of Florence to have a university at the north end of our main street," Florence Mayor Mickey Haddock remarked. "Believe me, we do not take for granted – and we could not be more excited about how this new Commons building will enhance both the university and our beautiful downtown area."
In addition to operating a campus credit-union branch known as The Hill, Listerhill is partnering with UNA to establish a new Financial Literacy Center based in the Commons. Services offered under the academic umbrella of the University Success Center (USC) will include the Center for Writing Excellence, the First-Year Experience Program, the Mathematics Learning Center, University Advising Services and other academic programs carefully designed to increase student enrollment and elevate student retention levels.
"The University Success Center is envisioned as a campus hub for academic support services to students," according to Dr. Thomas Calhoun, UNA's vice president for enrollment management. "The facility has small group study rooms, a mathematics laboratory, a large computer center, one-on-one tutorial carrels and inviting casual study and gathering spaces for students. It is generously staffed with professional advisors, instructors and tutors in a variety of academic disciplines. The USC consolidates a number of services in one single location, thus making it easier for students to access the assistance they seek. It is anticipated that the University Success Center will contribute greatly to our students' academic progress."
To help accommodate local visitors to the Commons' retail establishments, three 15-minute visitors' parking spaces will be available at the front entrance to the new building.
High-resolution photos from Monday's ribbon-cutting and dedication ceremony for the new UNA Commons are available for media use on the UNA Gallery at the following link:
http://www.unalionsden.com/archive/album.php?album=Student%20Academic%20and%20Commons%20Center&year=2014