Wayne P. Bergeron, D.Sc., LTC (Retired)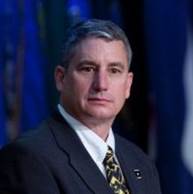 Instructor - Criminal Justice, Security and Emergency Management
Office: 9 Willingham Hall
Email: wpbergeron@una.edu
Phone: (256) 765-5022
LinkedIn: http://www.linkedin.com/in/waynepbergeron
Facebook: http://www.facebook.com/wayne.bergeron
Education:
D.Sc., Emergency Management, Jacksonville State University, 2016
M.S., International Relations, Troy State University, 1996
B.A., Government/Political Science, Nicholls State University, 1988
A.S., Criminal Justice, Nicholls State University, 1988
Mr. Bergeron is a full-time instructor teaching Criminal Justice and Security and Emergency Management. He was an officer in the U.S. Army for 23 years and retired as a Lieutenant Colonel. He served with the Military Police Corps and also within Special Operations Forces (Psychological and Civil Affairs). Mr. Bergeron developed the Security and Emergency Management program and serves as its program chair. He also serves as faculty advisor to the UNA Military and Veteran Alliance.
Research Interests:
International Relations
Terrorism and Transnational Crime
Geopolitics
School Safety and Emergency Preparedness
Security and Emergency Management
Humanitarian Assistance and Development
Cultural Considerations and Human Factors
Information Operations
Counter Terrorism and Counter Insurgency
Military and Veteran Affairs
Publications:
Bergeron, W. (2012). "Cultural Considerations in Consequence Management and Emergency Response", invited book chapter Managing the Consequences of Terrorist Acts – Efficiency and Coordination Challenges. Institute for Corporative Security Studies, Ljubljana, Slovenia and the Center for Civil Military Relations, US Naval Post Graduate School. http://www.ics-institut.com/research/books/4. 
Bergeron, W. (Feb, 2014). "Building Resilience - School Safety & Security Standards". Domestic Preparedness Journal.
http://www.domesticpreparedness.com/pub/docs/DPJSeptember14.pdf
Bergeron, W. (Feb, 2015). "Internships in Emergency Management: Good for All". Domestic Preparedness Journal. http://www.domesticpreparedness.com/pub/docs/DPJFebruary15.pdf 
Bergeron, W. (Apr, 2015). "Cultural Communities: Small Considerations Equal Big Benefits" Domestic Preparedness Journal. http://www.domesticpreparedness.com/First_Responder/Emergency_Management/Cultural_Communities%3a_Small_Considerations_Equal_Big_Benefits/
Bergeron, W. (April, 2015) "Considering Culture in Evacuation Planning and Consequence Management" Journal of Emergency Management. March/April 2015; pages 87-92. DOI:10.5055/jem.2015.0222
http://pnpcsw.pnpco.com/cadmus/testvol.asp?year=2015&journal=jem 
Bergeron, W. (July, 2015) "Superheroes in Waiting: Emergent First Responders". Domestic Preparedness Journal. http://www.domesticpreparedness.com/Government/DoD/Superheroes_in_Waiting%3a_Emergent_First_Responders/
Courses Taught:
Criminal Justice
Introduction to Criminal Justice
Police Organization and Community Relations
Corrections
Community-Based Corrections
Interagency Cooperation
International Law Enforcement and Emergency Response
Special Policing Activities
Comparative Criminal Justice (graduate)
Contemporary Issues in Law Enforcement (graduate)
Security and Emergency Management
Survey of Homeland Security
Introduction to Emergency Management
Disaster Response and Recovery
Security and Emergency Management Internship
Military Support and Disaster Relief
Introduction to Search and Rescue
Terrorism and Terrorist Operations
International Law Enforcement and Emergency Response
History
Military Science
Small Organizational Leadership
Small Organizational Operations
Military Science Leadership Laboratory
Military Science Advanced Internship
Leadership, Management and Ethics
Transition to 2nd Lieutenant
Military Science Leadership Laboratory
Special Topics in Military Leadership
Political Science
The Geopolitics of Global Challenges
The War in Afghanistan