Patrol Division
Patrol Procedures
University Police Officers patrol on foot, bicycle, motorized scooter, Segways and in patrol cars 24 hours a day, 7 days a week, year round to protect and secure the University Community. Officers perform patrol activities and other assignments in both uniform and plainclothes. The entire campus receives patrol coverage to prevent crime and to detect security and safety violations.
 
The University Police also provides a variety of other services such as escorting students/faculty on campus, jump-starting vehicles, public service and security related training, and providing general information about the University.
 
The University Police Department also hires student worker assistants who perform patrols around campus on foot and bicycles. Their primary functions are to monitor and enforce parking regulations, lock/unlock buildings, provide escorts, and protect personnel and property within their area of responsibility.
 
Law Enforcement Authority
All University Police Officers are certified police officers who receive their powers and authority from Code of Alabama 1975, as amended §16-22-1 & 2 and §16-51-12. University Police have original police jurisdiction on the UNA campus and concurrent jurisdiction in the City of Florence. They have statewide jurisdiction when investigating crimes which have occurred on campus. All University Police Officers are armed and have the authority to make arrests, issue citations, investigate crimes, and perform such other duties of police officers as recognized under current Alabama law.
 
Local Law Enforcement Support
The University Police Department works closely with and receives support from the Florence Police Department, Lauderdale County Sheriff's Department, Alabama State Troopers, The Alabama Alcoholic Beverage Control Board, and the Federal Bureau of Investigation. These agencies are contacted when assistance is needed. It is our intention to foster a healthy working relationship with these federal, state, county, and local law enforcement agencies.
Safety/Crime Prevention Programs
The University Police Department believes that a well-informed, alert public is the best defense against crime. Safety and security are concerns that should be shared by all members of the campus community. For these reasons, the University Police Department offers a number of seminars throughout the academic year to address personal safety, property security, and crime prevention. These seminars are scheduled through any of the organizations on campus. Please consider enrollment in the UNA Lion Alert Emergency Notification System. While participation in the text and voice messaging notification is optional, enrollment is strongly encouraged. A link has been provided for your convenience at the bottom of this page.
 
The success of UNA's Crime Prevention Program rests with every member of the campus community.
 
Crime Prevention Information
Several publications about crime prevention and personal safety are available through the University Police Department. Residence Life distributes literature on crime prevention and safety to all on-campus residents.
 
If you have a special area of concern relating to crime prevention, contact the University Police Department at 256.765.4357(HELP).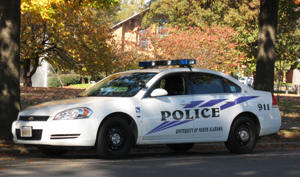 ---

"Working Together for a Safer Community"